The actress Angelina Jolie begins the interview for the magazine precisely denying these rumors about her marriage, pregnancy and adoption plans.
Angelina Jolie is the star that graces the cover of the October 2011 Vanity Fair edition. Inside the issue, the world renowned actress dismisses some of the rumors about her personal life and describes her feelings about being a director.
Angelina Jolie assures Vanity Fair contributing editor Rich Cohen that there is "no secret wedding" in the works for her and Pitt. "I'm not pregnant. I'm not adopting at the moment," the star tells Cohen.
Having cleared up things regarding her personal life, Angelina goes on to talk about her latest project, being a director for the movie "In the Land of Blood and Honey".
At first, she jokingly tells the magazine what Brad thinks about the new challenge she embarked on. She also likes to emphasize the fact that Brad has had a major contribution in the project she directed: "He'd come in and say what he liked or what he didn't understand.
Like any woman, I would listen to most of it and fight a few things. He's been so supportive. But it's hard to separate the person that loves you from the critic, so I don't think he's a fair judge. Angelina Jolie new makeup style on vanity fair magazine cover.
Angelina Jolie always wears toned down or natural makeup accentuating only her eyes with the cat eyeliner. So it shouldn't be difficult to get Angelina Jolie's makeup. Get Angelina's fabulous doe eye make-up!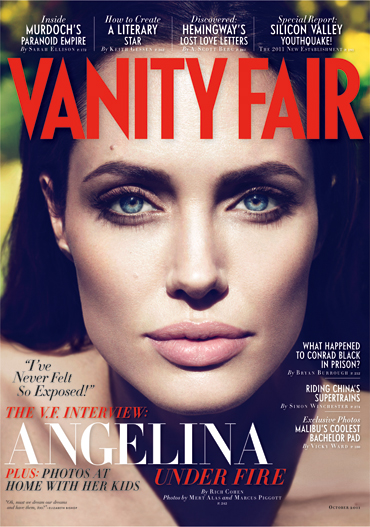 With these simple steps you will get the ultimate seductive look.
Face
Apply a pea-sized amount of foundation across the nose and forehead and blend out with your fingertips.
Accentuate your bone structure by dusting highlighter down the center of the nose and across the cheekbones.
Eyes
Create an intense eye by layering several textures.
Start with a creamy base in a frosted golden peach and apply it over the entire eyelid, blending it up to the brow bone.
Next, blend a brown shadow through the crease. For better control, pick up a small amount of pigment on the brush in a windshield-wiper motion.
Intensify eyes with kohl liner.
Glide the pencil inside the eye and follow up with black mascara, coating both top and bottom lashes.
Lips & cheeks
Apply blush at the apples of the cheeks.
Keep lips natural with a pink/beige color.