Fa Mystic Moments makes the treatment experience at a very precious moment. The rich cream and shower soaps enriched with shea butter and valuable pearls proteins intensively nourish the skin and gives it a silky skin feel.
The alluring fragrance of passion flower and the inspiring scent of black calla off into a mystical world. Fa Mystic Moments is also available as a cream bath.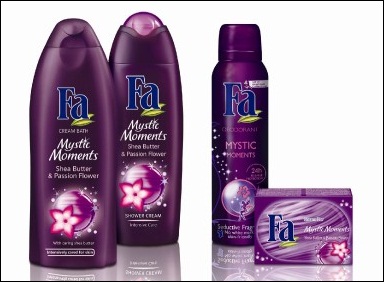 Caring for the skin should be associated with pleasure – great importance is the consistency and smell of used cosmetics. Fa Mystic Moments is a series of cosmetics, which apart from the fact that care is also a dose of sensuality and pampered skin.
Fa Mystic Moments – soap, shower gel and bubble bath is a charming, unusually captivating aroma of passion fruit. The combination of the beautiful smell of the formula for the content of nourishing, nutritious ingredients (including the precious shea butter, shea fruit harvested) provides the true effectiveness of the action and satisfaction.
Beautiful, extremely fresh and lasting scent deodorant Fa Mystic Moments is a great addition for everyone, full day duties. It gives you confidence – a 24-hour protection against odor. It is at the mild to the skin and leaves no trace on clothes.
Fa Mystic Moments is a soft, delicate and fragrant skin and above all relaxing for you – a real pleasure to use cosmetics.
Fa Mystic Moments – MSRP: Fa Mystic Moments shower gel : about 1.5$ . Fa Mystic Moments  bubble bath : about 2.5$ . Fa Mystic Moments soap in the ankle : about .5$.  Fa Mystic Moments deodorant