Everyone want to celebrate with valentine's day with romantic ideas, So use your own romantic and thoughtful ideas for creating a unique Valentine's day celebration.
The makeup for Valentine's day is of the most romantic. To look good on Valentine's day means to be the center of attraction from the people. so you must to be ready for Valentine's day party or Valentine's day dinner, and to be so perfect. Come and learn how to apply make up for romantic Valentine's day party. On the eve of valentine's day we are giving you the best makeup tips for valentine's day which is that make your eyes look romantic by the right eye shadow. use mascara. and you can put the glitter over your eye lid making the Valentine's day appearance more romantic and exciting, or make smokey eyes makeup with romance lines, and put lip gloss instead of lip stick since lip stick leave color on glasses , ad use red colors lip gloss at this Valentine.
Makeup advice: Because lip glosses can be too sheer and don't last throughout the day without a base, try using a similar tone base on the lip to lock on the shine. These are some of best makeup ideas for special Valentine's Day 2012.. How to apply Valentine makeup professionally.
Quick tips for 2012 Valentine's day makeup
SPICY SHIMMERY LIPS For lasting lip color…
Step 1. Use a dense cream base and apply evenly on the entire lip. You can smudge the base on with your finger or use a lip brush for precision application ( makeup brushes ). This will create a bold lip with long-lasting coverage.
Step 2. For a precise application outline the lip using a lip brush.
Step 3. To give the illusion of a fuller plumper lip apply your lip liner just outside your natural lip line and fill in with bold color.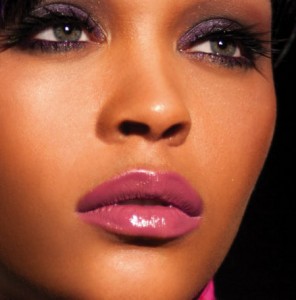 AMAZING EYES Amazing Eyes for Every Eye shape… Eye makeup ideas:
How to apply eye makeup?
Step 1. Use your lash line as your guide and apply a deep shade cream base as a liner using a liner brush to create depth and shape the eye.
Step 2. Dab a bit of loose shimmer shadow to the inner corners of the eye as a highlight for some extra pop!
Step 3. Turn it up a notch by creating a smolder effect – apply a deep cream base to the entire lid using a shadow brush and tap loose
reflective shimmer over the cream base to create a sultry subtle glimmer to the lid.