Salt and Sumac Calamari with Lime Mayonnaise Recipe. Sumac is a Middle Eastern spice with a sharp fruit flavour that works well in fish dishes, in the same way as lemon juice. Salt and Sumac Calamari with Lime Mayonnaise Recipe. Serves 6-8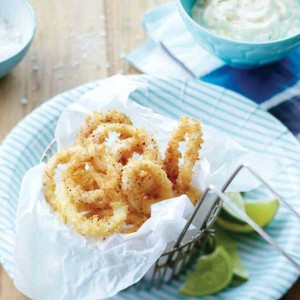 Ingredients
4 squid tubes
1 egg
2 cups panko breadcrumbs
2 teaspoons sumac
2 teaspoons flaky sea salt
1 litre flavourless cooking oil, eg canola
1/2 cup mayonnaise
1 lime, juice and finely grated zest
Extra limes for squeezing
Preparation
Slice squid tubes into thin rings (about 5mm). Beat egg in a shallow bowl. In a large bowl, combine breadcrumbs, sumac and salt.
Heat oil to medium-hot in a deep-fryer or heavy-based medium saucepan. Dip calamari rings into egg then toss them in the seasoned breadcrumbs.
Fry in small batches of 3-4 rings for a short time until just golden. Drain onpaper towels.
Combine mayonnaise, lime juice and zest and season with pepper.
Serve the hot calamari rings with the lime mayonnaise for dipping and lime wedges for squeezing.