The Halloween holiday will come very soon at October 31., and all interest to be active in Halloween party, and Prepare their Halloween costumes, interest to make scary and fun Halloween makeup,all friends interest to make Halloween party ideas and make some fun and scare on Halloween day,choose scary Halloween costumes , make frightful makeup and buy stranger Halloween shoes for Halloween makeup., and plan your Halloween party and make some scary home decorations for Halloween party.
Here turn from freaky fancy dress costumes to ghoulish party food ideas, you will find some Halloween party food ideas for your Halloween party. Come with us and you will create a frighteningly good Halloween party this year. Scare up some fun with these creative food ideas for Halloween parties.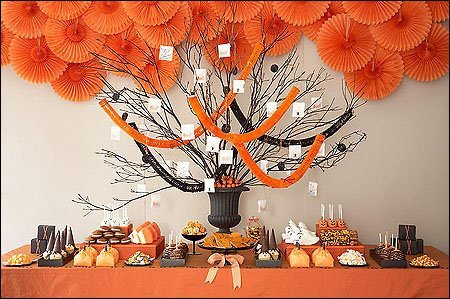 Be sure to display all the food creatively on the table. Buy some Halloween themed fabric at your local craft store to use as a tablecloth. You can even place paint cans and other suitable stands to create various levels underneath the fabric so that your food is displayed stunningly. Add some battery powered votive candles and fake cobwebs to create a spooky setting. and get some Fun Halloween Tableware. and here find some Halloween party recipes. These are homemade Halloween ideas.
Scary gingerbread men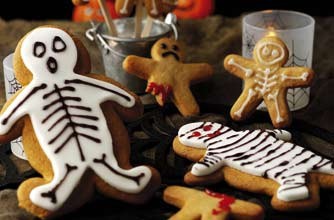 Ingredients
350g plain flour plus extra for rolling out
1 level tsp bicarbonate of soda
2 level tsp ground ginger
1 level tsp ground mixed spice
125g butter
175g light soft brown sugar
1 medium egg
4 tbsp golden syrup
Ready to roll icing (white)
76g colour writing icing, both available from Sainsbury's
Method
Preheat the oven to 180C/160C Fan/ Gas 4. Line two baking trays with baking paper. Sift the flour, bicarbonate of soda, ginger and cinnamon into a large bowl. Rub in the butter and then stir in the sugar Lightly beat the egg and golden syrup together. Add to the flour and mix to make a dough. Chill the dough for 15 minutes.
Roll the dough out on a lightly floured surface to a thickness of ½ cm thick. Cut shapes out with gingerbread cutters, remembering to take off a few limbs and head for added gore.
Bake for about 15 minutes. Leave on the tray for 10 minutes then move to a wire rack to finish cooling. When cool, let your imagination run wild!
Use the red writing icing along the edges of the missing limbs and heads as blood. For the skeletons and mummies – either pipe with white writing icing or roll out the ready to roll icing to 3mm thickness and cut shapes slightly smaller than the gingerbread. Lightly brush the gingerbread with boiled water and carefully place the icing on top. Using the black writing icing decorate as a skeleton or mummy!
via – goodtoknow.co.uk
Spider Cake for Halloween party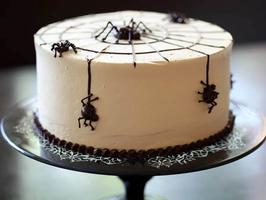 2 1/4 (7 1/8 ounces) cups sifted cake flour – sift it into the measuring cup
2 teaspoons baking powder
1 teaspoon baking soda
1/4 teaspoon salt
1/2 cup (1 stick) unsalted butter, softened
1 1/4 cups granulated sugar
2 large eggs, room temperature
3/4 cup sour cream
1 1/2 teaspoons vanilla extract
6 tablespoons milk
3 tablespoons cocoa powder
NUTELLA AND CHOCOLATE BUTTER CREAMS:
1 cup egg whites (about 8 large egg whites)
2 cups sugar
1 1/2 pounds unsalted butter, softened
pinch salt
1/2 cup nutella
4 ounces bittersweet chocolate, melted
1 teaspoon vanilla extract
CHOCOLATE GANACHE FOR SPIDER BODY AND WEB:
2 ounces bittersweet chocolate
4 tablespoons (2 ounces) unsalted butter, cut into 4 pieces
CHOCOLATE SPIDER LEGS:
2 ounces bittersweet chocolate, melted
via – cookingchanneltv.com
Carrot Fingers and Ranch Dressing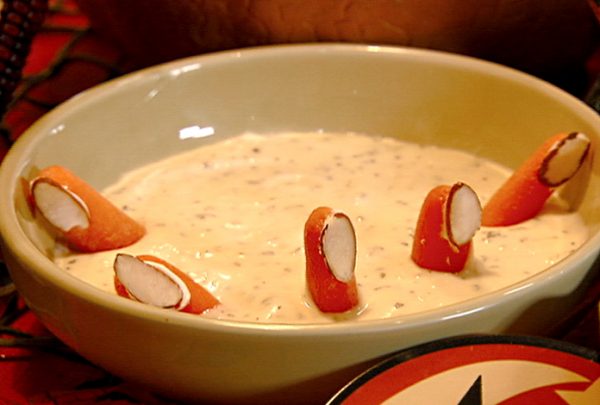 Ingredients
1 bag peeled baby carrots
1 cup sliced almonds
Cream cheese
Bottled ranch dressing
Directions
Place a bit of cream cheese on the end of a baby carrot and place an almond slice face down on top. The almond should look like a fingernail on the carrot "finger". Repeat until all carrots are finished. Pour dressing in a bowl and stand a few carrot fingers upright in the bowl. Place the bowl on a platter and lay the remaining carrot fingers around the bowl.
We hope you have fun and scary Halloween Party with these homemade Halloween party ideas.
via – foodnetwork.com