Boiled Potato Dumplings (Halušky). These earthy potato dumplings, a staple of families of Eastern European descent in Pennsylvania's Pocono Mountains, are delicious tossed with sweet caramelized onions and bacon and topped with sour cream.  SERVES 8-10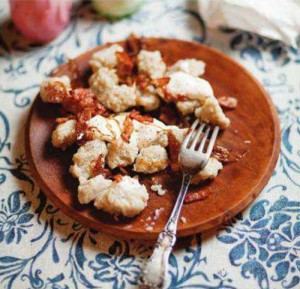 Ingredients:-
1 tbsp. unsalted butter.
3 slices bacon, cut into 1/2 pieces.
2 small yellow onion, 1 thinly sliced, 1 finely grated.
Kosher salt, to taste
1 3/4 lb. russet potatoes (about 2 large), peeled, finely grated (soak in water until needed,then drain).
2 cups flour.
3/4 tsp. baking soda.
2 eggs, lightly beaten.
Freshly ground black pepper, to taste Sour cream, for serving.
Preparation:-
Heat butter and bacon in a 10″ skillet over medium-high heat, and cook, stirring occasionally, until bacon is crisp and its fat has rendered, about 6 minutes. Using a slotted spoon, transfer bacon to paper towels to drain and set aside. Add sliced onion to skillet; cook, stirring occasionally, until soft and lightly caramelized, about 6 minutes. Transfer to a small bowl and set aside.
Bring a 6-qt. saucepan of salted water to a boil over high heat. Meanwhile, stir together grated onion, potatoes, flour, baking soda, eggs, and salt and pepper in a bowl with a fork until a thick dough forms. Working in batches, drop teaspoon size balls of dough into the water, and cook until the dumplings float to the surface and are cooked through, about 3 minutes. Drain dumplings, and then divide between serving places.Top each portion with bacon, caramelized onions, and sour cream before serving.