White Kitchen Design Ideas 2013
Designing a new kitchen? Have fun with these white kitchen designs! If you're putting a new kitchen into your home, this is a great time to get away from the same old humdrum and put some spice into your life by getting creative with your kitchen design. Here are a few kitchen design ideas that might breathe some new life into your old home.
One design that you may have seen in movies and even in the homes of your trendy friends is the California kitchen. This design centralizes the stove and oven into an island in the middle of the kitchen with sinks, cabinets and the kitchen table organized against the wall around it. You have plenty of room to walk around the island, and you can access your stove even if you have a crowded kitchen during a party or family get-together.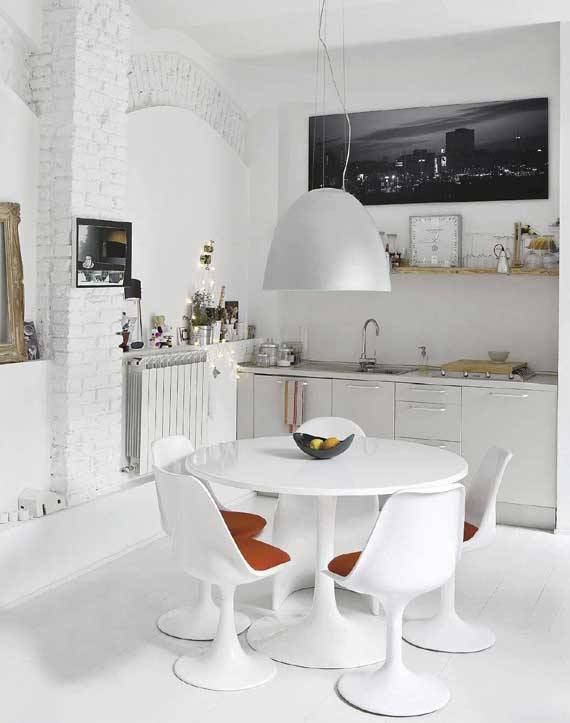 Another popular option for those in smaller homes is the tiny kitchen. This design makes maximum use of your smaller space by designing all the elements of your kitchen in a vertical arrangement. This design is characterized by its tall thin cabinets, oven built into the wall with storage space overhead, hanging pots and pans and a centrally-located sink flanked by counter tops on either end. This design lends itself well to the recent trend toward white kitchens because the brighter appearance makes the space seem larger. The illusion of space can also be helped with creative placement of mirrors.



Another modern white kitchen idea is the tranquil kitchen, which features postmodern curves that are meant to soothe and comfort you and your guests. A white counter/table is set in the center of the room with Zen-like rectangular stools on the open side. Art deco prints are hung on a near wall, and the opposite wall features cabinets, sink and stove. A classic wooden floor complements this modern white kitchen.



These are just a few of the many ways you can be creative in using white kitchen designs to spruce up your home. But the sky is the limit, so don't be afraid to experiment and come up with your own white kitchen ideas that reflect your own creativity.
Subscribe

to Stylish Trendy