What to do for Greasy Hair? 10 Tips to Quick fix!. Many of the girls suffer from greasy hair damage due to the increased activity of sebaceous glands related to the hair, one of the main reasons for the presence of dandruff, and even though there with plenty of cosmetics, but the treatment does not end the external problem of excessive activity of the sebaceous glands permanently. There are several steps that must be the girl followed her greasy hair so as not to turn the case of hair from the normal condition to bacterial or fungal.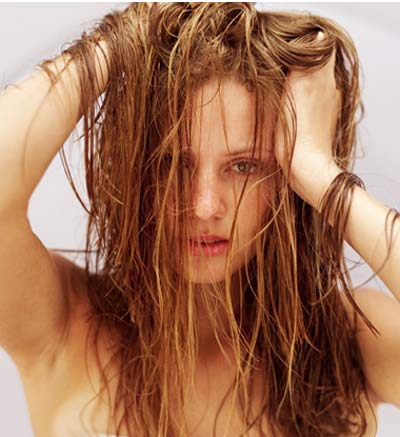 Let's know the methods to get rid of greasy hair.
1 – Wash your hair three times a week to get rid of grease on hair.
2 – use a natural shampoo works to reduce grease in the hair.
3 – Change the type of shampoo to be constantly advised of extract from the eggs or lemon.
4 – leave the shampoo on the hair for three minutes before washing.
5 – switch and sleeping pad every two days.
6 – Do not use hot water when you shower you should use lukewarm water.
7 – reduce the intake of foods and hot spices and condiments.
8 – use a wooden comb with teeth spaced combing carefully and quietly.
9 – Use of Balsam completely free of fat and away from the hair roots.
10 – Wash your hair once a week with a mixture of 1½ tablespoons vinegar and ½ teaspoon orange and ½ teaspoon of lemon added to 2 liters of water.
Must get rid of dandruff as soon as possible, you should know that short hair is better than long hair because it does not touch the skin of the face and thus reduces a lot of grease transfer to the hair.