In the summer and with the hot weather we need to protect our skin from the sun's harmful rumor, especially on the beach And try to look for the best sunblock for face products of the best sunscreen brands of skin care Among these brands is Vichy Provide us with a variety of products to protect your skin from the sun and to suit all skin types even sensitive. Vichy sun protection Capital Soleil UVA / UVB protection
Tips for using sunscreen
Buy the safest sunscreen for you and your family
Apply the sunscreen ( sun protection) on the areas you want 30 minutes before you look the sun.
Use sunscreen lotion or cream suit your skin type.
Clean your skin before apply your sunscreen.
Choose sunscreen with high spf fron 30 to 100 spf to protect your skin from UVB ana UVA rays.
Capital Soleil is known for the outstanding quality of its sunscreen filters. Photostable and broad spectrum, these filters protect skin from UVA and UVB rays and remain efficient even after prolonged sun exposure. Vichy pleasant and easy to apply textures makes sun protection an easy and pleasuable experience.
You can wear Vichy sun protection under your makeup every day, and contains Vitamin E and White Grape Polyphenol to help keep skin looking healthy and beautiful.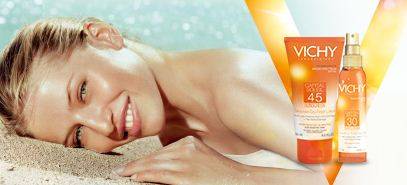 Capital Soleil SPF 45 Silkscreen Dry-Finish Lotion
The best of Vichy UVA/UVB cellular protection and anti-aging antioxidants in a breakthrough melting lotion with a "barely there" after feel. Cooling application with a silky, dry-touch finish; Absorbs in seconds, no white residue.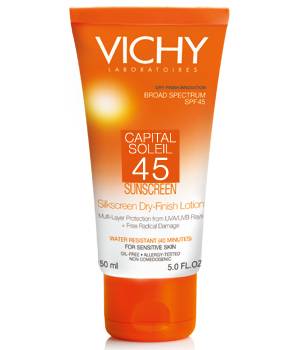 Capital Soleil SPF 30 Luxurious Protective Oil
Vichy introduces a luxurious, radiant body oil with broad-spectrum SPF 30, for higher protection and a sun-kissed, radiant glow. Natural White Grapeseed Oil and Vitamin E condition the skin, while providing powerful antioxidant defense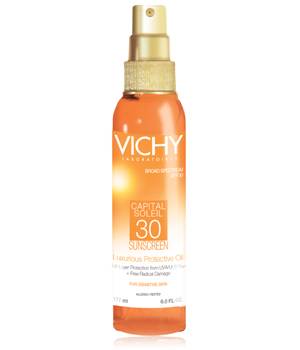 Capital Soleil SPF 50 Ultra Light Sunscreen Fluid
provides broad-spectrum UVA + UVB protection and fights skin-aging free radicals. It contains an optimized combination of effective UV filters and powerful antioxidants . to help protect your skin at the cellular level* to keep it looking healthy and beautiful.
This daily, lightweight formula for sensitive skin is allergy-tested, fragrance-free and water-resistant. It is absorbed quickly and does not leave skin feeling sticky or greasy.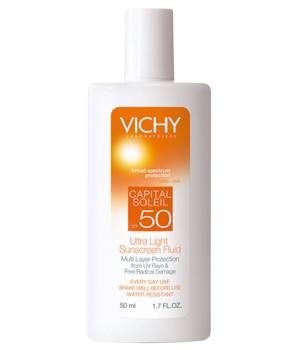 Capital Soleil SPF 50 Lightweight Foaming Lotion
The powerful protection of broad-spectrum sunscreen in the delicate feel of an air-mousse formula. Multi-layer protection from UVA/UVB rays and free radical damage Vichy published sunscreen products to suit every skin type Micro fluid for oily skin, emulsion mixed to oily skin, cream for normal to dry skin, it's more moisturizing, intolerant skin cream reduces the sense of stinging in the eyes.
How to use: apply on the areas you want 30 minutes before you look the sun.