Permanent Laser Hair Reduction. If waxing, shaving or painful laser treatments are not your thing, why not try our Soprano Laser Hair Removal treatments. The revolutionary new in motion technology (cleared by FDA 2005) treats the problem of unwanted hair painlessly and quickly.
Soprano is a diode laser that uses in motion technology. The hair follicles are heated gradually and since the laser is constantly in motion, the treatment area can be bigger and is over more quickly. The superior cooling head ensures that there is only a warming sensation that is often compared to hot stone massage.
The advantages of Soprano Laser Hair Removal over other lasers treatments are that it is quick and more effective, usually 6 treatments is enough.
No pain and no downtime, so you can return to normal activities straight away. More complete and even in coverage and able to treat even very fine hair. Perfect for any area of the body like neck, face & bikini areas. The Soprano treatment is long lasting.
Pain-free Hair-free™ gently heats hair follicles with powerful energy. You stay comfortable through the whole treatment. Nearly every part of the body and face can be treated at our Soprano Laser Hair Removal London Clinic in West Hampstead.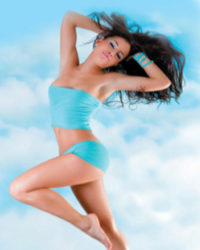 Helen Baron says goodbye to underarm hair forever. Hairless and Careless. I'm funny about some things. It's not that I'm on a quest for perfection but that there are some things that just rub you up the wrong way.
Literally, in the case of underarm hair. It's annoying. I guess I'd feel the same about my leg hair if it grew as fast, but I get a few days' grace in that department; there's usually just enough time in 'The Schedule' to whip out the razor while I'm in the shower and give my pins a quick once over. But underarm hair…It's the pits.
The irritating stubble that seems to gather and multiply – and no sooner have you given it the chop than it's reappearing. I'm tired of pulling my skin in all sorts of directions just to get a clean sweep of a decent patch. And so much for those 'special' (i.e. more expensive) razors built to handle curvature – no matter how many times you run the blades under your arm, all you can think about (and feel) are the ones that got away.
So it is with great pleasure that I rock up to Vervena's West Hampstead salon, arms held high and ready to roll. Monique Jansen, my beauty practioner, talks me through the procedure (which requires a preliminary patch test and consultation) and boy, does she know a thing or two about modern beauty treatments. "I've tried most of the treatments," she tells me. "Botox, fillers, laser hair removal, body reshaping.
I had a degree in hospitality management but was spending so much at Harley Street that I decided to open my own salon." She tells me a little about her clientele, explaining how she sympathizes with their needs. "I know what it's like," she says, "it can be really inconvenient, if you're
particularly hairy, it makes you really self-conscious.". I sympathies too; I'm not a very hairy person and yet my underarm stubble
annoys me. I suppose it's the fact that us women are often trying to stay smooth all the time and the evolution of women's hair growth patterns hasn't quite caught up with our beauty regimes.
Fortunately, Vervena's treatments can get rid of unwanted moustaches, leg hair, back hair, bikini lines… in fact, any unwanted hair you may have. And unlike other hair removing treatments (electrolysis and
waxing) you don't have to wait for the hair to grow – thus avoiding that awful furry phase where you feel like primitive man, literally bristling to the touch. So how does it work? Using revolutionary In-Motion technology, hair is removed painlessly and quickly.
Even better, it's long-lasting and nearly every part of the body and face can be treated. The Soprano laser machine heats hair follicles gently despite its power: the cooling head means that only a warming sensation is felt during the treatment. (Monique tells me a funny story about a client who fell asleep while having a rather relaxing bikini line removal.) Beauty salons the world over must be putting in orders for these laser bad boys.
Vervena are ahead of the curve though (in both senses of the word) having offered the service for some time at their Tower Bridge salon; they now bring their beautifying skills to North London – bestowing better bodies on residents of West Hamp stead.
Importantly, there's no pain but also no downtime (thank god, 'The Schedule' does not allow for my being holed up for weeks) and the treatment promises more complete and even coverage. It can even be used on very fine hair.
My first treatment is pleasant as I chat away to Monique about my beauty-writing assignments. As I waffle on she suddenly whips up my skirt and does a bikini line patch test on me, promising she'll help with that area too! Monique is nothing if not efficient.
Vervena also offers Body Reshaping and Cellulite treatment and I'm intrigued… not having to adhere to a remorseless diet and exercise regime to keep the lumps and bumps at bay, you say? The phrase 'non-invasive' is music to my ears – and these treatments bear more investigation. Keep your eyes on future beauty pages…
But back to the here and now, and after a mere fifteen minutes my session is done. Six sessions are usually recommended to complete the process (they are spaced out so as not to overexpose the skin to the filtered light and in order to synchronize with the body's
growth cycle) but as I'm not particularly hairy Monique say we can expect to complete after four. The authorizing bodies claim that by using laser/IPL technology, it is possible to permanently remove hair by 85-90% in selected areas which means that in a very few cases, hair does grow back.
My hair, however, grows at a slower rate and is finer after just one session; I don't need to shave every day. Which allows me to say with confidence that IPL laser treatments are a dream come true.
I can see how a lot of woman would opt for it; it's so easy to do and you must save a decent packet long term on mountainous waxing bills. Most
importantly though, 'The Schedule' will be pleased. For more info about laser hair removal visit Vervena hair and beauty.