Valentine's Day is a perfect time to be creative with your special someone. Using an everyday object such as a paper craft can provide you with several new and exciting crafts for your special someone.
I would like to introduce you to the great paper craft making for your Valentine's Day craft ideas. Look professional and surprise your special someone with a quality looking valentines day paper craft.
Lets get started, I'm going to show you how to make romantic valentines day paper craft pretty with paper Use brown paper as your tablecloth, add pale pink, gold and cream to your color scheme, and finish off with fine crockery and delicate glasses to give your table a romantic feel.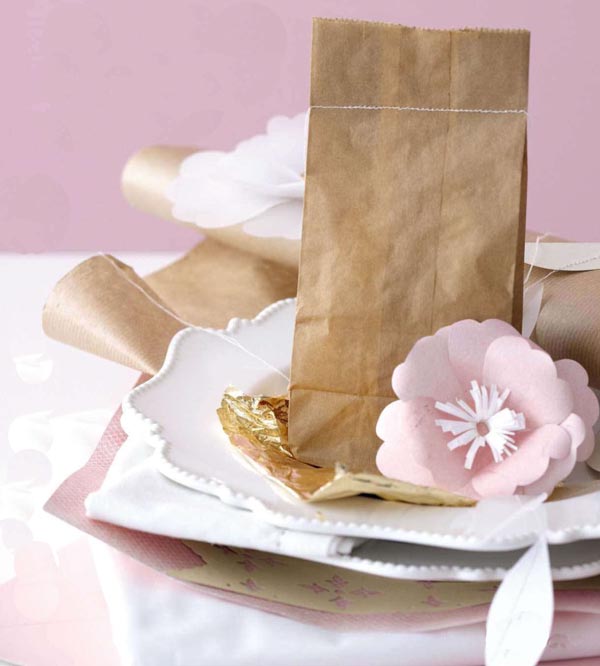 Tablecloth
You will need
White tablecloth
Brown paper (approximately the same width as your table and double the length)
Pencil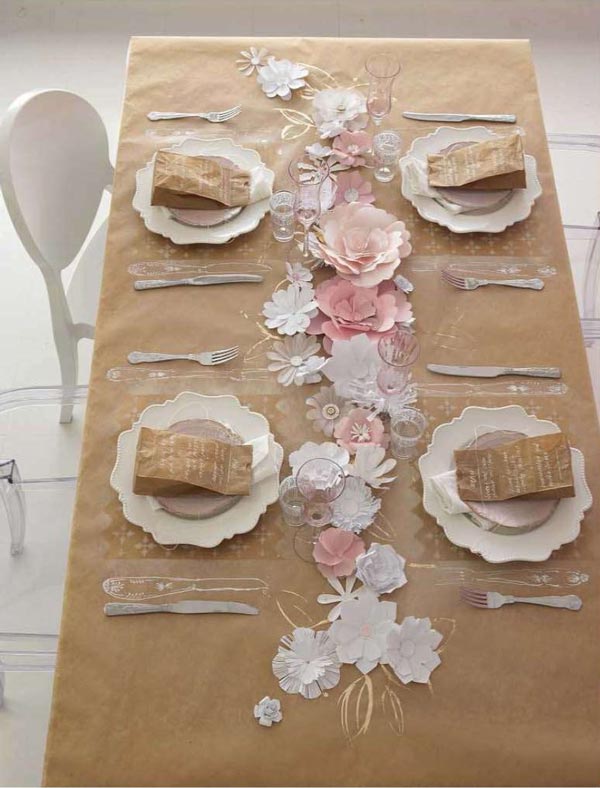 To begin; Place the white tablecloth on the table then position the brown paper on top, making sure to fold it over the edges of the table to secure it. Now set the table with your plates, cutlery and glasses and use your pencil to outline each item. Remove all the items before you start to decorate your tablecloth.
Paper Flowers
You will need
Sheets of cardboard in shades of pink, cream and white
Tracing paper
White paper
Pencil
Scissors
Craft glue
Buttons
Template for flower petals
Brads in a variety of colors and sizes
Eraser
Filigree split tool (usually used for quilling)
Embossing tool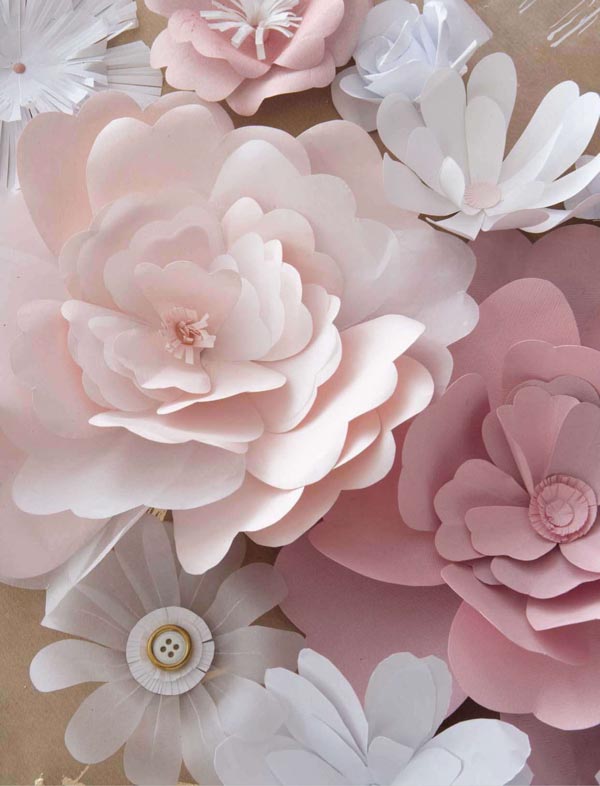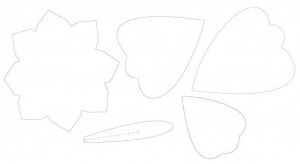 To make
1- Copy the petal templates in the desired sizes and cut out Place your cardboard on a flat work surface and trace the petal templates. Refer to the photos for an idea of how many you will need for each flower (we used about 10 for the simple pink flowers and about 30 for the peony-style flowers).
2- Cut out the petals, erase any pencil marks and stick the petals together with craft glue to create flowers. Use a mixture of colors in your flowers, if you prefer.
3- Use the split tool to create curves in some of the petals and the embossing tool to add lines for texture. Use a curled piece of cardboard. fringed paper, a button or a brad to decorate the center of the flower. Arrange the flowers down the center of the table.
Paper-leaf bunting
You will need
Sheets of cardboard in cream, white and beige
Tracing paper
Scissors
Cream cotton sewing thread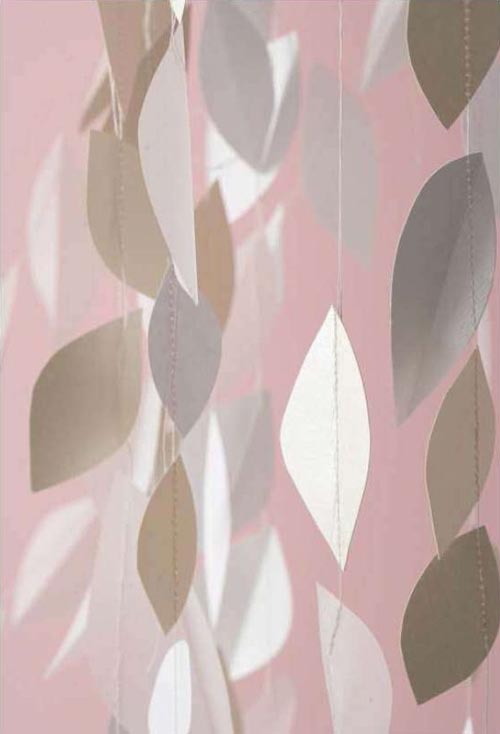 Cut leaf shapes out of your cardboard and tracing paper. Get the family to help, as you will need a lot of leaves to create the right effect. Fold some of the leaves in half to create a three dimensional look.
Leaving a long piece of thread at the start, machine stitch the leaves together into strings of various lengths. Drape the strings of leaves above your table or from a light fitting, or attach to the wall.
Spray-painted Placemats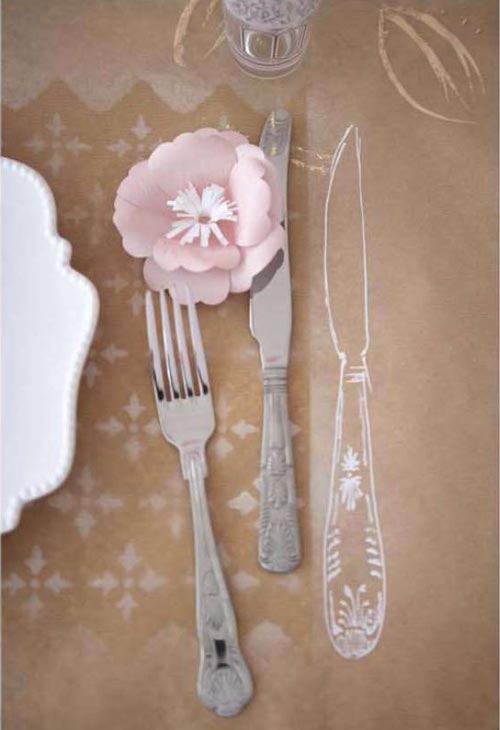 Position a stencil of your choice on the tablecloth so that the traced outline of the plate is roughly in the middle (we used a cut-out paper stencil from a scrapbooking shop).
Spray a few layers of cream spray paint lightly over your stencil. Wait for the paint to dry then remove the stencil and move on to the next setting. Use a Tippex pen to write your guests' names under the placemats at the bottom left-hand corner of the place setting.
Cutlery Designs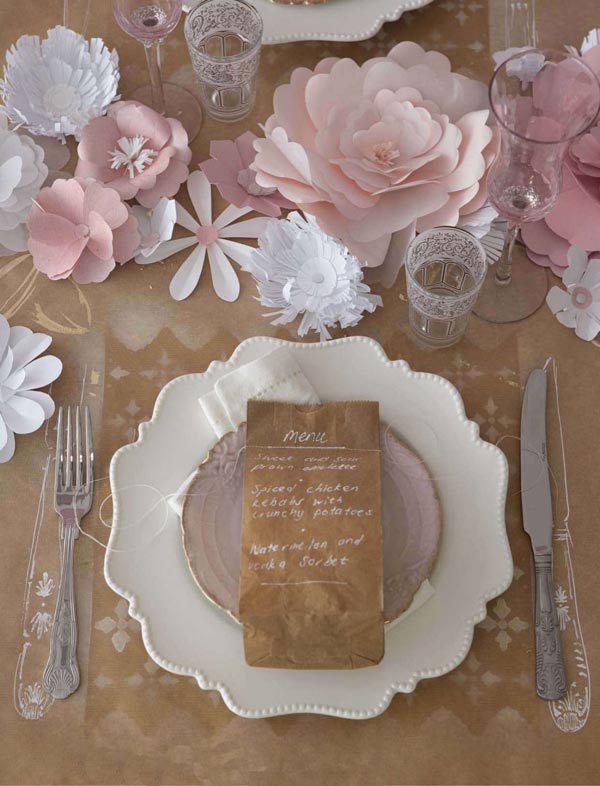 Use your cutlery as inspiration and draw a knife and fork at each place setting on the table runner using a Tippex pen, making them slightly bigger than the pencil outlines.
You can make them as precise, naive. intricately detailed or graphic as you prefer. Instead.
Golden Leaves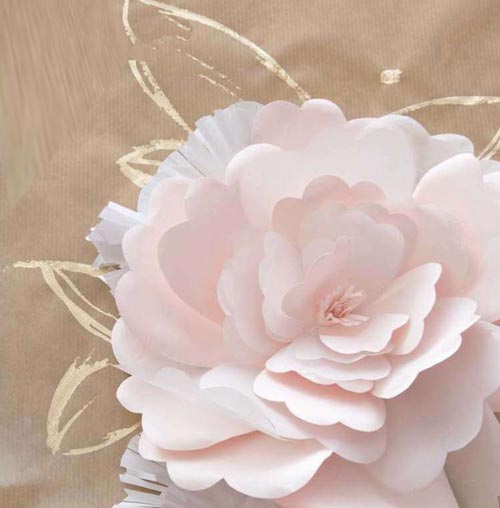 Draw leaves down the center of the tablecloth, keeping in mind that you will be placing your paper flowers over them and that you'll want the leaves to show.
Paint decoupage glue with an artist's paintbrush over the pencil leaves. When the glue is dry. place gold leaf over it. Lightly brush away any excess gold leaf using a wide, soh paintbrush. Carefully erase visible pencil lines.
Menus and Gifts
You will need
Small brown paper bags
Cream cotton sewing thread
Pencil
Eraser
Tippex pen
Gifts
Tissue paper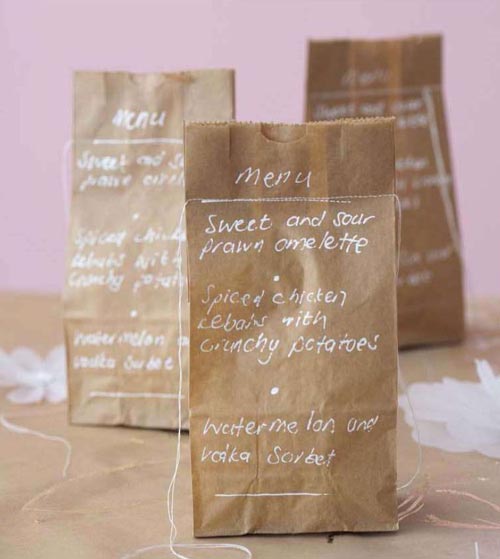 To Make;
Write your menu in pencil onto the paper bags then trace over the writing with your Tippex pen.
Wait for the Tippex to dry then carefully erase any visible pencil lines.
Wrap the gifts in tissue paper, insert into the bags and machine stitch the bag closed. leave long cotton threads at each end for decoration or cut them off for a neater finish, if you prefer.