Valentine's Day Nail Art Design Ideas 2012
Valentine's day is a special day, all the world celebrate with it every year on 14th February.. Every woman must want to look beautiful and charming. To look beautiful, you can wear pretty clothes with the theme of Valentine. Not just by wearing clothes, you also can look pretty by adding accessories, making a perfect makeup that are specifically for Valentine's Day. Specially you must choose romantic makeup look by magistic lines on your eye makeup, your lips, put som shinny lip gloss To complete Valentine's day makeup look. Choose a suitable makeup colors for Valentine like pink and red, or you can make french nail art. You can also choosing a suitable fashion for Valentine's Day nail art designs. To complete your Valentine's day look. Nail art design with a cute design, beautiful and dominated by red and pink that really reflects the day of Valentine. With decorative hearts and flowers are also beautiful, nail art design makes it more charming and exude an extraordinary beauty. Design nails with putting nail acrylic with manicure colors and decorate it by nail stickers, nail extensions or nail stamping.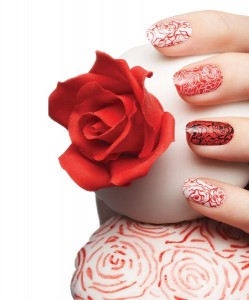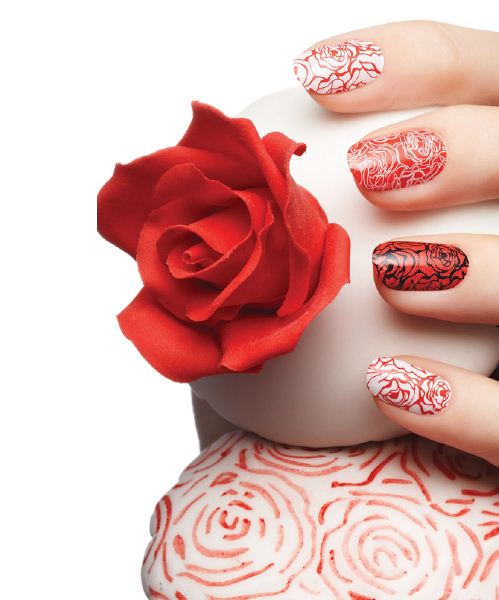 Here we will learn together How to apply nail art for Valentine's day. Valentine's day nail styles 2012. Check out a few nail art gallery designs inspired by this romantic valentine's day. I want to share you new 2012 Valentine's day nail art ideas ..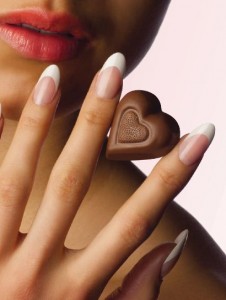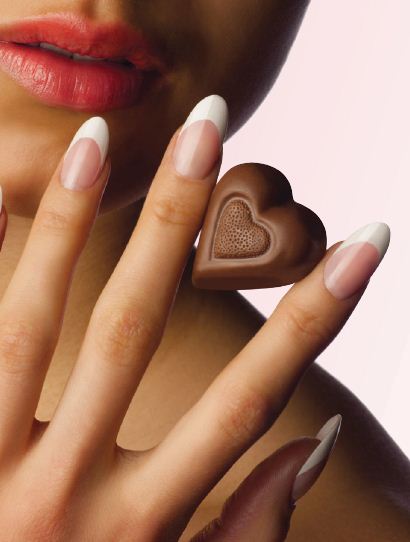 You will Love These Nails in Valentine's day
1. Shape the nail at an angle. Polish the nail pink. Use a brush saturated in acetone to remove polish from a semi-circular area at the corner near the eponychium. Fill in the semi-circle with sparkly silver polish.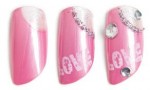 2. Add a line of pink and silver glitter to separate the pink and the silver polishes. Either use a nail art stamp or an airbrush with a stencil to add the word "love" along the free edge (shown is a Bundle Monster stamp).
3. Apply top coat. Apply rhinestones.
Valentine's day nail design Sealed with Kisses
1. Polish the nail a light color (shown is Butter London's Pink Ribbon). Using a thin-tipped brush, draw an elongated "M" shape in a
contrasting color.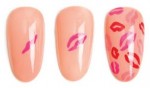 2. Using the same color as the "M", draw an elongated "U" shape below it.
3. Repeat steps 1 and 2, changing the size, shape, and color of the kisses at your discretion.
Valentine's day Red Romance nail art
1. Apply Nubar red acrylic one third of the way down the nail.
2. Mix Nubar pink with a little glitter, then apply it to the nail, fading it into the red.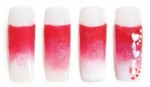 3. Add Nubar Ultra White acrylic at the free edge, fading it into the pink.
4. Use Nubar clear acrylic to attach holographic hearts. Add white and red dots around the hearts. Apply UV top coat. Cure.
Love Letter nail art design
1. Use a black striper to draw an angled rectangle on the nail. Use the striper to draw a diagonal line above it.
2. Use the striper to add the lines to turn the rectangle into an envelope and the diagonal line into an arrow.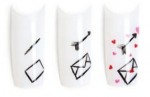 3. Add small pink and red hearts all over the nail, including as a "seal" on the envelope.
Queen of Hearts, Valentine's day nail art new ideas.
1. Apply hot pink glitter acrylic to the free edge to create a French.
2. Apply clear acrylic to the rest of the nail. File the nail smooth, but do not buff .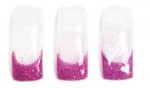 3. Use white acrylic to create 3D hearts. 3d nail art, Buff and apply top coat
Reddy for Love nail art
1. Polish the nail red.
2. Use a white striper to draw swooping lines as shown.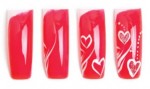 3. Add a white heart on either side of the lines.
4. Add two trails of white dots. Fill in the hearts with silver glitter.
Subscribe

to Stylish Trendy