New Spring Collection 2011 ,Tres Vichy .
For her new spring collection « TRES VICHY », Dany SANZ was inspired by the fashion of the 60s and its iconic print,
Ginham. At that time a wind of freedom was blowing and daring on the wardrobes of women.
A feminine look, timeless and Parisian.
Vichy Blossom Palette
: shimmering diamond white and pink eye-shadows .
Vichy Trendy Palette
: pearly white and baby pink blush .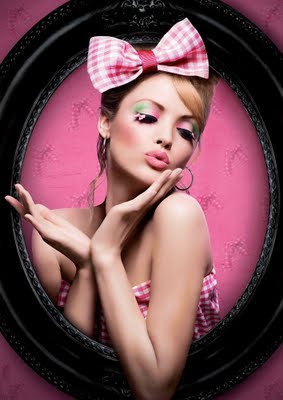 Tres Vichy Star Powder Diamond Collection
Star Powder #67, diamond white
Star Powder #68, diamond pink with purple highlights .
Star Powder #69, diamond pink with golden highlights .
Star Powder #70, diamond green with golden highlights .
Tres Vichy Eye Lashes
Create the look from the promo image Complexion :
1. Start by applying a light shade of Sculpting Blush (#6) using the brush 55N in a circular movement
on the rounded part of the cheeks.
Blend towards the temples to add depth and enhance the complexion.
This will be your base for the look.
Eyes
Apply Diamond Pink With Purple Highlights to the inner corner of the eye.
On the outer corner, apply Star Powder Diamond Green With Golden Highlights.
Blend the two together with your fingers or an eye brush. Add a touch of Star Powder Diamond
White to the middle of the lid to light up the eye.
Finish by applying Color Liner n°1.
Start from the inner corner and move outwards for a doe-eyed effect.
The Tres Vichy Eyelashes are the star of this look, and Smoky Lash Mascara is the key.
Complete the doe-eye effect by applying the Tres Vichy eyelashes just above your eyelashes.
Finally, apply a coat of Black Smoky Lash mascara to add body to the lashes, sweeping from the root of the
eyelashes to the tip.
Lips
The secret to finishing this look is to add a soft, and pink lipstick. For a Brigitte Bardot pout,
the lips should be perfectly hydrated with the Lip Balm.
Use Aqua Lip #18 on the contours of the lips and smooth out towards the inside of the lips.
Apply Rouge Artist Intense #32 to the middle of the lips blend the shades together for luscious lips.
For a perfect finish, dab color on with your fingertips. These colors are so pretty. ( Visit :
VICHY
).
This is MakeUp ForEver , Tres Vichy Spring 2011 :