Top Trends for 2012 Wedding Gowns. In the business of fashion, trends come and go. The shapes and lengths of gowns change with the seasons, and usually take their cues from fashion designers in Paris, New York and Milan. However,the hottest trend seen in gown designs is a nod to the wedding of the royals in England.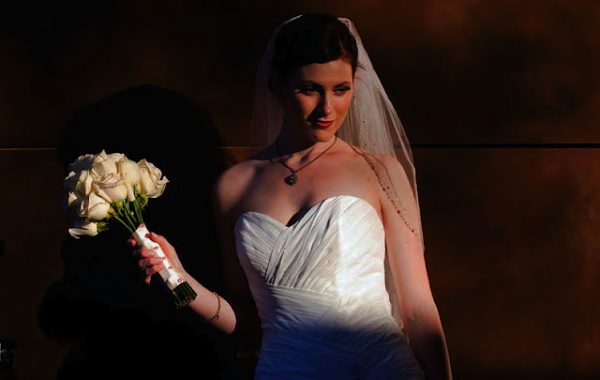 Sleeves are making a comeback
While strapless gowns still line the aisles and adorn the walls of bridal boutiques, dresses with long sleeves will be coming in droves. Designers like Monique Lhuillier revealed a gown with a bateau neckline and long sleeves in her 2012 collection.
Off-the-shoulder looks and deep-V necklines were shown off by models at the Legends by Romona Keveza 2012 showcase. While in the past, contemporary brides have grown away from the modest look of long sleeves, gown designers say that the new sleeve length can look beautiful, classic, and timeless when worn correctly.
Long, sheer lace patterned sleeves can look young, sexy and pretty. The Duchess of Cambridge, Catherine Middleton walked down the aisle at Westminster Abbey in long lace sleeves. Long, wrist-length sleeves aren't the only length that designers are working with for 2012, however. Carolina Herrera featured short sleeves, Wtoo Brides showcased elbow length sleeves, and many others are incorporating 3/4 sleeves in to their designs.
Above: Monique Lhuillier presented this stunning lace A-line gown. A beautiful combination of the incoming trends. Below: Pronovias introduced this gown as part of their 2012 collection, which features a delicate and interesting lace illusion bateau neckline.


Illusion Necklines
Designers showcased several unique necklines this season, but the one that showed up in most runway presentations was the illusion style, which is a sheer delicate and often embellished layer of fabric which veils skin that would otherwise be exposed. Brides magazine calls this "strapless with coverage," but notes its power to transform a more daring, sexy look into a softer, more sophisticated appearance. This look is perfect for busty brides who love the strapless or sweetheart neckline, but don't want to boldly show off the "girls."
Texture, texture and more texture
Many of the design trends seen in 2011 are holding over for 2012, and one of these is the use of texture on gowns. The more, the better! Whether it is ruffles, lace, pleats, rough-edged fabrics, or layers upon layers of tulle, brides love the look of various textures on their gowns. Textured fabrics add an element of interest to what may be an otherwise simple gown.
The use of lace was seen in many designers shows for 2012. Sleek trumpet and mermaid silhouettes with lace overlays and lace corsets were showcased by Alfred Angelo, Monique L h u l l i e r, St. Pucchi, Pronovias and Vera Wang.
Ruffled wedding gowns are still popular this year and the trend is expected to continue. From ball gowns and A-lines to trumpet and mermaid silhouettes, all kinds of ruffles are showing up — horizontal, ertical, roughedged, even some that look like tumbleweed! These can be great plus-size gowns depending on the bride's body type. Jasmine Couture's 2012 collection was full of beautiful examples of textured gowns.
Above: Top bridal designer Vera Wang continues the bold use of textures in her '12 collections. The ballgown's horsehair confection skirt gives the gown a dreamy appeal. Below: Monique Lhuillier's use of the bustier bodice gives feminine structure to the common sweetheart neckline.


Corset & Bustier Bodices
Another popular trend seen in the shows of several top designers was the bustier/corset bodice. These structured feminine bodices are flattering to nearly every body type, and can give additional lift to brides who brides who want to show off their curves. The bustier/ corset bodice can also keep the tummy under control and give the overall appearance of a more trim waistline and shapely figure. Pair this style with a jeweled belt or colored ribbon, and the result is highly fashionable gown that will make the groom's jaw drop to the altar floor.
Many designers have completed their bridal looks by adding a ribbon tie or belt at the natural waistline. Gowns can be ordered with a monochromatic style in which the belt is the same color as the dress, or ordered in a bold color, like black. The belt draws the eye to the natural waistline, and takes attention away from the hips and other trouble spots.
article by Heather Moutray,Brazos Valley Bride. For more information about the trends in wedding gowns, visit any of the Brazos Valley area wedding boutiques. Aria Bridal, Bea's Bridal, Nolen's Formal Apparel, Special Occasions, and VIP Bridal are all knowledgeable and helpful vendors who can help you select your perfect gown at the perfect price. Purchasing your gown locally will save you money, time, and the kind of personal service you can expect from a hometown shop. Visit www.ido-ido.org for links to these bridal boutiques and more!