Tom Ford beauty believes that a truly beautiful face begins with skin that appears energized, clear and radiant. It is with this philosophy, and his personal passion for advanced skincare treatments, that led him to design a focused range of treatments that fuse a deeply luxurious, sensory experience with high-performing active formulas. Tom Ford Beauty introduces two proprietary complexes that incorporate energizing and detoxifying agents from the naturally derived traditions of East and West, as well as from the laboratories of contemporary science. Quest for skin Radiance.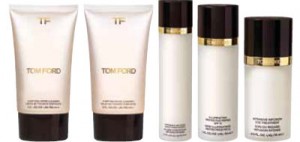 The TOM FORD PURIFYING COMPLEX, found in the collection's cleansers, frees skin of dulling and damaging toxins by combining a European plant extract with Chinese herbs to promote purification and reduce irritating environmental pollutants.
The TOM FORD INFUSING COMPLEX, found in the treatments and primer, infuses skin with a potent combination of specially selected nutrients that help skin stimulate its natural repair mechanisms. By helping skin cells replenish their natural energy, it fundamentally rejuvenates the complexion, making skin look and feel brighter and fresher.
The Tom Ford Beauty line of skincare products consists of 150 ml Purifying Gelee Cleanser, 150 ml Purifying Crème Cleanser, 50 ml Intensive Infusion Daily Moisturizer, 50 ml Intensive Infusion Ultra Rich Moisturizer, 30 ml Intensive Infusion Concentrate Extreme, 15 ml Intensive Infusion Eye Treatment, 150 ml Makeup Remover and 30 ml Illuminating
Protective Primer SPF 12.  Tom Ford skin radiance SKU collection.