Turkey, ruling bird for Thanksgiving, goes back 10 million years ago in North and Central America, where it was a bird sacrifice. Whatever Thanksgiving dinner can be awesome especially when with family and friends.
Turkey becomes the most preferred dish all through out the occasion and it does not matter whether it is low fat or a fried one. There are many recipes for cooking Thanksgiving turkey, but the simplest recipe is still the best tasting.
It is a delicious reading which let us know which varieties are much in demand during Thanksgiving. follow steps and make cooking Thanksgiving turkey a breeze this year.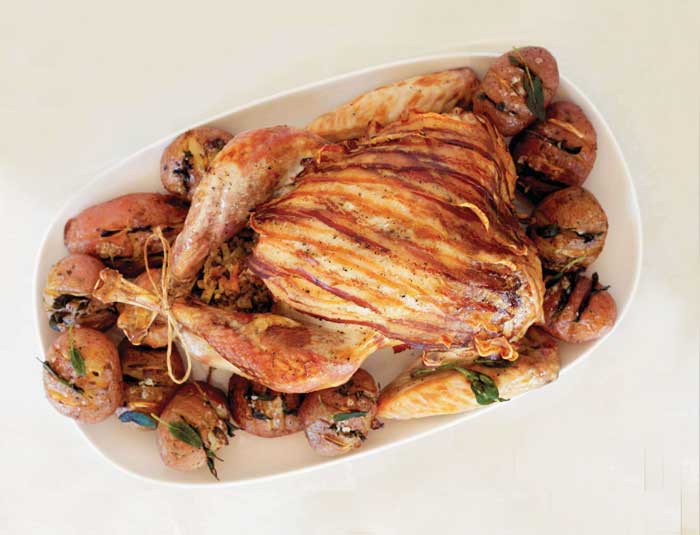 Ingredients:-
4 kilogram turkey (we used Canter Valley).
16-18 thin slices pancetta or shaved streaky bacon.
softened butter.
Stuffing 1/2 cup short grain rice.
2 tablespoons olive oil.
knob of butter.
1 small leek, thinly sliced.
2 teaspoons finely chopped rosemary or thyme.
2 cloves garlic, crushed.
1/4 teaspoon each ground cinnamon and allspice.
1/4 cup sliced dried apricots.
1/4 cup dried cranberries.
1 cup chicken stock, hot.
1/4 cup pistachios, roughly chopped.
zest of 1 small orange.
1/4 cup chopped flat-leaf parsley.
sea salt and freshly ground pepper.
 Stuffing:-
Put the rice in a large bowl and rinse under cold running water until the milky water runs clear Drain well Heat the oil and butter in a medium saucepan and add the leek, rosemary or thyme with a good pinch of salt. Cover and cook for 10 minutes until tender.
Add the garlic, spices, apricots and cranberries and cook for 1 minute. Add the rice and hot stock, stir then cover tightly. Cook over a very low heat for 15 minutes. A simmer mat is ideal for gentle cooking. Transfer the rice to a shallow tray and gently fork through the pistachios, orange zest and flat-leaf parsley, taking care not to crush the grains of rice. Season and leave to cool.,
Preheat the oven to 180°C.
Turkey:-
Remove the neck and any giblets from the turkey. Rinse inside and out with cold water and dry well with kitchen towels. Season the cavity and loosely spoon in the stuffing. Tie the legs together with kitchen string and tuck the wings under, securing the neck skin.
Brush the turkey with olive oil and season. Lay the slices of pancetta over the breast, slightly overlapping each other. Rub the legs with soft butter. Put 2 cups of water and the turkey neck in a roasting dish and place the turkey, breast side up, on a rack over the dish. Loosely tent the turkey with well oiled aluminum foil and roast for 21/4 – 21/2 hours, basting every 30 minutes. The turkey is cooked when the juices run clear from the thigh when pierced with a skewer or the internal temperature of the thigh reads 80°C on a meat thermometer. Transfer the turkey to a platter and leave to rest, lightly covered for 20 minutes before carving. Serves 10-12.
GRAVY:- 
This is an essential component to any roast and there are two simple ways of making a good gravy
The first is by 'deglazing' the pan in which you roasted the meat Spoon off most of the fat from the pan juices and place the roasting dish on the stove top over a medium heat. Add 1 cup of stock or wine or 1/2 cup of both and scrape the base of the pan to release all the lovely sticky bits. Season and let this bubble up and reduce a little to give a small amount of concentrated gravy.
The second method will produce thicker gravy to serve a larger number of people Spoon off most of the fat and place the roasting dish on the stove-top over a medium heat. When bubbling, quickly whisk in 2 tablespoons of plain flour to make a smooth paste. Gradually whisk in 2 cups of good chicken stock then either 1/2 a cup of wine or port and bring to the boil. Season and simmer for 10 minutes. If the gravy is too thin, keep simmering to reduce it or if it is too thick, add a little more stock. Strain the gravy into a warm serving jug.