Thanksgiving Recipes – Baked Ham with an Orange, Cardamom and Balsamic Glaze, if you're looking for a moist delicious ham delivered straight to your door, introduce new Thanksgiving recipe ideas to your family the combination of orange, mustard and balsamic vinegar gives the glaze a rich, sweet-sour flavor.
Baked Ham with an Orange, Cardamom and Balsamic Glaze is a great Thanksgiving dinner you don't have to look far to find great new thanksgiving recipe ideas. Lets Start!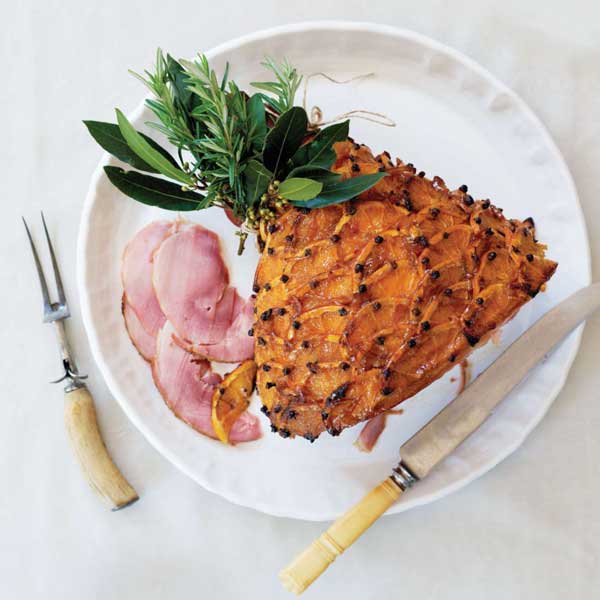 Ingredients:-
5 kilogram cooked 1/2 leg of ham (we use Freedom Farms).
2-3 navel oranges or other thin skinned orange.
whole doves.
Glaze
1/2 cup orange marmalade.
3/4 cup brown sugar, packed.
1/4 teaspoon ground cardamom.
1 teaspoon dry mustard powder.
2 tablespoons Dijon mustard.
2 tablespoons balsamic vinegar.
juice of 1 lemon
To assemble toothpicks Preheat the oven to 170°C.
Preparation:-
1-Glaze:-
Combine all the ingredients in a saucepan and bring to the boil, stirring to dissolve the sugar. Simmer for 2 minutes then set aside.
2-Ham:-
Remove the skin from the ham using your fingertips to gently prize it away, taking care not to damage the layer of fat underneath. Leave the skin on the hock.
Place the ham in an aluminum foil-lined baking dish and pour in enough water to cover the base of the dish. This stops the glaze from burning on the base.
Halve the oranges through the stem and slice thinly. Place the oranges, overlapping slightly, in rows across the ham and stud with cloves and toothpicks, Using a pastry brush, dab the glaze thickly over the oranges Roast for 1 1/4 hours, basting every 20 minutes. If necessary add a little water to the dish so the glaze doesn't catch and burn. Turn the dish several times during cooking for even coloring of the ham.
Remove the toothpicks as soon as the ham is cooked otherwise the cooling glaze will 'glue' them into the oranges.
Allow to cool for 10 minutes before carefully lifting onto a serving platter.
To serve:-
Place your desired wrapping around the ham hock and secure with kitchen string, Serve the ham hot, warm or at room temperature.