Want to learn to make simple and easy Tea Break Cookies Recipe? Here are some quick tips and easy to find tools to use.
Tea Break Cookies Recipe Hands-on time 10min, plus cooling. Cooking time about 15min. Makes about 20 cookies.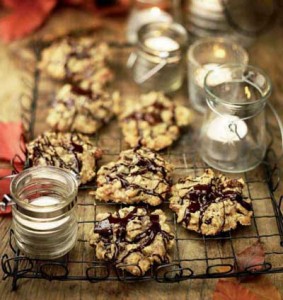 Ingredients:- 
• 125 g (4 oz) unsalted butter, softened, plus extra to grease
• 100 g (3 1/2 oz) soft light brown sugar
• 50 g (2 oZ) golden syrup
• 140 g (4 1/2 oZ) plain flour
• 1 medium egg
• 100 g (3 1/2 oz) jumbo oats
• rtsp ground cinnamon
• 75 g (3 oz) sultanas
• 75 g (3 oz) pecan halves, roughly chopped
TO DECORATE
• 4o g (1 1/2 OZ)plain chocolate, melted
Preparation:-
Preheat oven to 170°C (150°C fan) mark 3. Lightly grease two large baking sheets.
In a large bowl, mix together the cookie ingredients until well combined. Put large tablespoonfuls of the mixture on to the prepared baking sheets, spacing them well apart.
Bake for 12-15min until golden. Leave to cool for 10min on the baking sheet, then drizzle with melted chocolate. Serve immediately, or leave to set hrst. Store set cookies in an airtight container for up to three days.