A study in Bridal crystology
Here are a few bridal crystal accessories ideas that caught our attention and that we believe you will find inspiring. presented by the giant Swarovski manufacturer.
Swarovski Crystal Bridal Collection 2012

Here our some of the best Swarovski Bridal Crystal  for 2012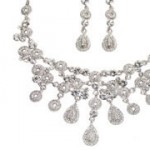 Swarovski Bridal Luxe Necklace, 

This Mirella Swarovski Luxe Necklace Set is another must have item As with all of the pieces we have selected, this is certainly a set that can be worn for any special event. From the Italian Luxe Collection of bridal jewellery.

Crystal Couture shoes, Award winning Crystal Couture shoes by Yona Armstrong. These stunning shoes from the new Elite Collection are just amazing.
 
Crystal Vintage Style Tiara, Swarovski Crystal Vintage Style Tiara / Tiara Comb in Crystal AB. Every Princess should own at least one tiara and this vintage piece would be great to hand down generation to generation. Available in other colours.
 
A Vintage delight, this gorgeous bridal hair comb is inspired by the elegance of the Art Nouveau period. With an antique finish this would be ideal for a vintage themed wedding.
 
This handbag is a darling, Swarovski crystal encrusted the cutest fastening, even if you are not getting married, this would be great for a night out over the festive season.
 

Ava Swarovski Crystal Vintage Brooch Bridal belt. Stunning crystal bridal belt made with Swarovski crystals in a vintage design with brooch detail. Made to order to fit brides waist size.
Check-out Swarovski Bridal Crystal Collection 2012 Available from Crystal bridal accessories