Fashion week 2012 trends. Spring season 2012 is just a very nice season in regards of glam. The fashion trends are launched for the spring 2012 Fashion. Unlike the extreme seasons like summers or winters, it's just a heavenly season in which you have no more restrictions, neither to have some heavy or thick materials as in winters nor the stuffs that are necessarily accompanied by summers. Designers included heavyweights such as Diane von Furstenberg, Marc Jacobs, Tommy Hilfiger, Chado Ralph Rucci, Michael Kors and Ralph Lauren. Popular labels — Rachel Roy, L.A.M.B., BCBG Max Azria and Badgley Mischka — were also part of the mix. Fashion weeks 2012 were held at different places launching spring/summer collection by designers. In september 2011, New York fashion week 2012 was held in New York to boost Fashion 2012, launching collection of latest fashion trends and designs for 2012. Week started on 16th September and ended on 21st September. Designers launched the latest collection of dresses and designs. Michael Kors launched safari style dressing. "celery" shades and flapper styles were the main trends launched by the designers. Spring summer fashion week 2012 trends.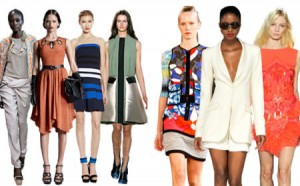 Fashion week 2012 started in New York and then it was held in London, Milan, Paris, Los Angeles and then Tokyo. If a conclusion of all fashion weeks' trends could be made, then we come to know that there is much variety in spring summer trends 2012. Designers emphasized on laces, pleats, Safari dresses, skirts, short sleeved dresses and prints etc.
Laces are big this season. Designers made use of laces and pleats in their collections beautifully.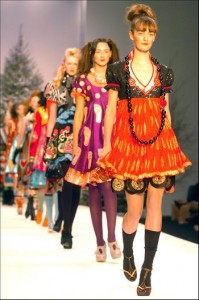 Prints are the big emphasis of the designers,we see. Floral prints are big in spring that look so gorgeous according to the season's need and charm. Geometrical prints are also in vogue. Stripes are prominent in designers' collections. Striped skirts, striped shirts even striped bags and shoes are big. Flappers and Pajamas are big in the fashion.
Fashion week color trends 2012: Pull out your rose—and orange and blue—colored glasses… it's time to break down the color trends for spring and single out the hues that are sure to dominate our personal palettes in 2012. For next season, think cheery cotton candy, serene seafoam green, and a sultry new neutral that's not your ho-hum camel. Bright colors and breezy dresses and skirts that emphasized movement were just two of the popular themes seen throughout the week.
But of all of these trends, it was the bold colors on the runway that stood out most. Clearly, designers have determined that color is the key to women's hearts and wallets. Shades of orange — from coral to pumpkin — battled for prominence with purple, hot pink, turquoise and mint. While some designers went for pale, most went for bold, with some designers even opting for neon shades. Both Korto Momolu and B. Michael America went for bold orange — Momolu in flowing silk charmeuse and Michael in fitted silk shantung. Tracy Reese featured a bright coral in both a boatneck top and a flounced, flyaway dress.