Keep things simple on Christmas Day with these traditional favourites – it's a delicious, fuss-free feast that won't leave you hot and bothered in the kitchen Smoked Trout Salad for Classic Christmas Lunch. SERVES 8 TAKES 25 MIN COSTS £1.30 PER SERVING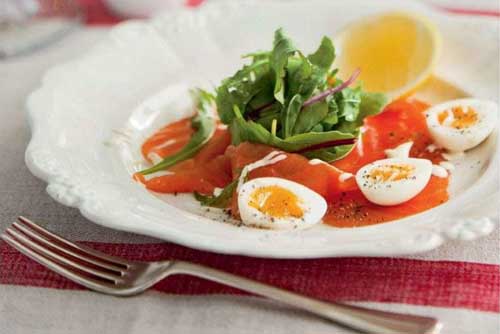 Ingredients:
12 quail's eggs.
6tbsp creme fraiche.
2 rounded tsp Dijon mustard.
8 thin slices brown bread.
400g (14oz) smoked trout slices.
1 bag rocket and chard salad leaves.
2 lemons, cut into wedges.
Preparation:
Place the eggs in a small pan of boiling water. Bring back to the boil and simmer for 21,1min until the eggs are soft-boiled.
Drain and cool the eggs under cold running water. Peel off the shells. rinse and halve.
Mix the creme Iraiche with the mustard to make a dressing and toast the bread (if desired).
Arrange the smoked trout slices on small plates, top with the salad leaves and arrange quail-egg halves on one side.
Season with salt and freshly ground black pepper and drizzle with a little dressing. Serve with bread/toast and lemon wedges.
Tips:
Check if your guests prefer 'hot' (cooked) or 'cold' (cured) smoked trout before you go food shopping.Appetizer Recipe, appetizer recipes, Appetizers, Beef, beef recipes, Beef Stew Recipe, Capers, Food Gourmet, Food Recipes, Freeze, Make-Ahead, Parmesan, Recipe Chicken Recipes, salad recipes, Skillet