The party season providing the simplest ways to remove the stress from the hectic offi ce dash to glamorous venue in a few simple wardrobe changes. We don't see the need to completely overhaul your office outfit but a few light tweaks that can be folded neatly into your daytime handbag in anticipation of the much awaited festive party. We have combined two of the catwalks biggest trends 2012 this season, from demure daytime forties inspired glamour to the sultry, sensual and all the major s's of evening wear or as it has also been dubbed, 'fetish'. This is simple fashion trends 2012 to daytime and to night time for holiday season.
Fashion trends to daytime:
-Prints were a key underlying trend for autumn/winter, miu miu's heavily forties inspired range displayed a plethora of flora and fauna patterns. This delicate frilled blouse is a beautifully balanced offering of this season's key looks. See By Chloe from Harvey Nichols £345.00.
-The pencil skirt is a timeless wardrobe classic and has once again graced the catwalks as a key component in this seasons highly coveted forties inspired collections. This particular example combines the elegant profile of forties sophistication combined with a sexy
contemporary twist. From Runway £42.50.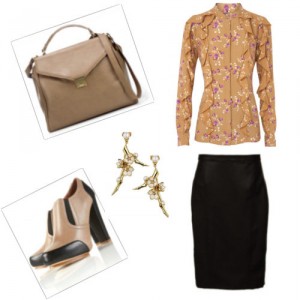 -Not a tote in sight, the runways were lined with petite examples of  ladies purses, finished with simple clip fastenings and dainty little handles. The simple tone of this bag is essential as not to detract from the blouse or over fuss the ensemble. City Bag from Zara £99.99.
-Court shoes and lace up shoe boots are synonymous with this style, and the so the delicate rounded toe and simplicity of the two tones make these ankle boots a modest yet elegantly in keeping choice of footwear. Glory Boots from Top shop £68.00.
-A crucial element when it comes to accessorising this look is to keep it subtle small hints of pearls and fine jewels are acceptable. These blossom branch earrings nicely complement the fl oral pattern of the blouse and an element of careful sophistication. Shaun Leane.
blossom earrings from Wave Jewellery £695.
Fashion trends to night:
-The lace dress panel detail of this top is beautiful without being revealing, wear it tucked inside the skirt for a defined silhouette. American retro tank from 3 Eleven Boutique £133.
-It is very rare I advocate an entirely head to toe black ensemble but this style calls for it. So you should take the chance to use your handbag as a means to inject some texture and alternative pattern into your outfit. Angel Sackson samaya satchel from Urban Outfitters
Boutique £248.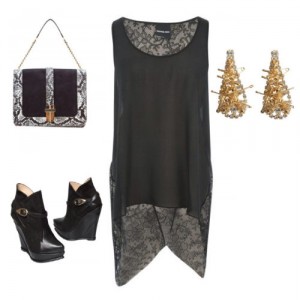 -These boots are the exact finish to this look, the leather detail of the toe, harness straps and angular buckle add to verging on dominatrix appeal of this trend. We just love them! Atlanta Weller wedges from Hervia Bazaar £490.
-Keep it simple. Tom Binns safety pin earings from Hervia Bazaar £175. I hope you enjoy with this fashion trends holiday season 2012.