The Kate Collection by Rimmel £5.49 Boots. Rimmel Kate moss lipstick. For the first time ever Kate Moss has created a fantastic lipstick collection for Rimmel's Autumn/Winter launch. The collection comes in seven sultry shades with Kate's signature red at Shade01. The shades are bold and beautiful, capturing , her unique style in a sophisticated black casing signed by none other then the model herself.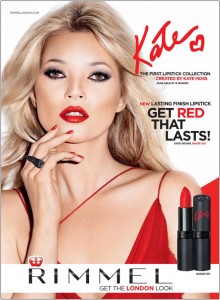 With the help of a new exclusive black diamond pigment complex they reflect like never before, leaving you turning heads like the supermodel you are. The London look wouldn't be complete without Kate Moss' touch, especially when that touch comes in the form of a chic, smooth, luscious lipstick that we couldn't live without. The Kate Moss Lasting Finish Lipstick Collection contains 15 shades – all hand-picked by Kate and features a chic matte black pack that perfectly represents her glamorous rock'n'roll style. Kate's iconic pack is truly personalised with her signature in an eye catching stand-out red giving it true elegance with an edge!
Talking about her new lipstick collection Kate says: "My inspiration for this range was really to create a range of easy to wear, classic
shades that I have always worn and loved. From bright reds, to soft pinks and nudes, there is a shade for everyone and any occasion. It was also really important for me that they were comfortable to wear. Whatever your outfit there is sure to be a shade to match!". For more visit Rimmel.