Welcoming a baby into your life and home is an exciting adventure that changes absolutely everything. Preparing your house for your baby's arrival should be at the top of every new parent's to-do list. This means carefully considering what modifications need to be made to properly accommodate your baby's needs and all safety precautions. The easiest and most logical place to begin is in the bedroom.
It's becoming more common among parents to co-sleep with their child instead of immediately allowing baby to sleep independently in a nursery. If you're planning on spending the first few months of your child's life by their bedside within the comfort of your bedroom, you'll likely need to redesign the space with baby in mind.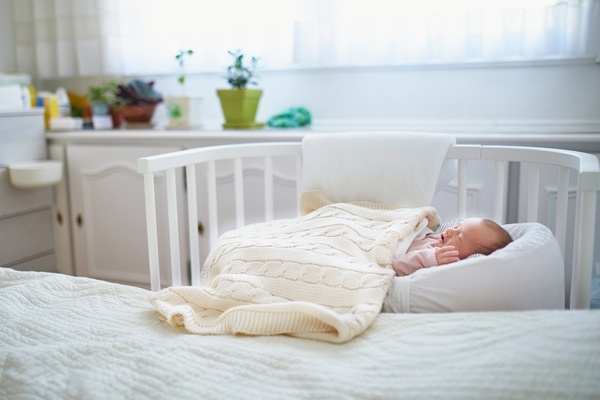 Thankfully, achieving the ultimate co-sleeping habitat isn't as difficult as it sounds, and you won't have to break the bank to do it. With these helpful redesign tips, we'll let you in on our secrets to creating the perfect shared bedroom.
Figure Out your Ideal Sleeping Situation.
Did you know that sleeping in the same room as your baby reduces the risk of SIDS by 50%? Co-sleeping has many different forms and it's completely up to your unique discretion to decide what's best for your and your baby. Let's lay out your options:
Sharing the bed: With the proper positioning and technique, sharing your bed with your baby can help facilitate a peaceful sleep environment for both parties.
Using a bedside bassinet: A bedside bassinet gives baby his or her own sleeping apparatus while still giving parents reachable access just an arms-length away.
Setting up a crib/bassinet: Making space for a crib in the room is perfect for parents who don't want to share the bed space with their baby, but still want to have their young one in the room.
So, it's up to you! Do you want to share your modern luxury bedding with your unpredictable baby? Would you rather let baby catch some Z's solo? Figuring out your ideal sleeping situation is the first step toward redesigning your bedroom.
Layer on the Fabrics to Absorb Sound.
If your bedroom floors are hardwood you may want to consider layering plush rugs or installing carpet to reduce disruptive sounds. Tiptoeing around when baby is asleep will become a common habit— especially when baby spends more than 50% of his or her day fast asleep. Rather than worry about every creak and strike, fashioning the room with sound absorbing rugs or carpeting will allow you to move freely without waking baby up.
Don't forget to dress the windows! If your bed or baby's crib is located near a window, consider dressing them with curtains or drapes that drown out external noises and keep the bedroom quiet.
Optimize Storage
Adding another person into your bedroom means making space for all of their necessities. Even though babies are tiny and take up minimal space, the number of diapers, clothes, towels, toys, and other clutter you'll accumulate will surprise you. Consider investing in extra shelving or under bed storage to make sure your room still feels organized and relaxed.
Rearrange Smartly
Bassinets and cribs are the biggest furniture additions to your bedroom upon baby's arrival. In order to make sufficient space for everything already in your room and the new furniture, you'll likely need to rearrange. Mess around with different floor plans before settling on one that feels too cramped. You might even consider installing a hanging bassinet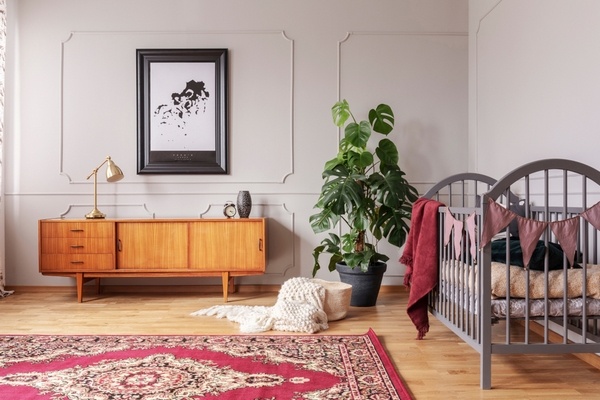 Reinvent your Closet Space
Converting your closet into a baby care station may be the space-saving answer you've been searching for. Whether you're a DIY maestro or plan to hire a professional, creating a closet baby station is a simple venture. A few drawers, a couple mounted shelves, and surface perfectly sized to change your baby are the three main ingredients.
Safety First
Introducing your baby into a space dominated by adults and adult things can be terrifying for both parties. You'll want to do thorough sweep of your bedroom before settling your littlest one in. This means keeping a vigilant eye out for sharp edges, loose materials, and anything that could potentially pose a threat to your newborn.
How did you transition to living with your baby? What tips do you have for new parents redesigning their bedroom? Open up the discussion in the comments below