Rainbow Club have been designing, making and coloring handmade satin wedding shoes since the mid 1980s and we are now firmly established as the UK's leading and most inspirational producers.
You are buying exclusivity and a truly unique look as all Rainbow Club brands are created in-house by Rainbow Club Head of Design. From early guidance under the world renowned shoe designer Jimmy Choo, to celebrity weddings and permanent historical exhibits, Di has over 20 years experience designing shoes at the highest possible level.
Each pair of your wedding shoes are handmade using only the best components, from Rainbow Club exclusive dyeable satins to Rainbow Club Swarovski buckles and embellishments and even Rainbow Club comfort is legendary. Wedding shoes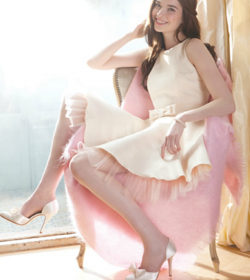 Collection, from chic and elegant ballet flats to elegant and stylish heels, this year 2012 wedding shoes collection has something for every bride. The club collection introduces rainbow club signature designs and give the platform to create more directional and inspirational wedding shoes. Bridal shoes collection: bellow,
Kate. A delightful peep toe T bar covered in our exclusive ivory lace and finished with flamboyant pleated ruffles. Heel ( 9.25cm ). Ivory Lace
Clara. Prettify yor feet with these vintage inspired shoes and dainty satin ribbon ties on our fashionable conical heel. Heel ( 7.5cm ). Ivory Satin
Kerrie: Sleek and sexy open waisted court shoes with sky high heels and super stylish bows. Heel ( 10.5cm ). Ivory Satin
Tanya : A graceful open waisted court shoe finished with elaborate pleating and a beautiful interwoven diamante trim. Heel ( 6.25cm ) . Ivory Satin
Annie: This perfectly pretty classic with delicate buckle and strap is finished with a subtle two tone overlay. Heel ( 5.5cm ). Ivory Satin
Louise: A perfect ballerina pump finished with a charming bow and subtle satin edging.  Heel ( 0.7cm ). Ivory Satin
Jess: Pure stylish elegance, a superb wedge court finished with gleaming diamante. Heel ( 7.5cm ). Ivory Satin.