Christmas cookies & candies
Christmas is the best time of the year for celebrating, making others happy, feasting and having fun with family and friends. People make goodies to celebrate the festive season. Christmas cookies recipe are the most important of them all.
When you're down to that last hard to shop for person on your list, give the gift of beautiful (and scrumptious) sweets.
Pretty Package Cookies Recipe | Prep: 20 min | Chill: 2 hours | Bake: 8minutes per batch | Stand: 2 hours | Oven:350°F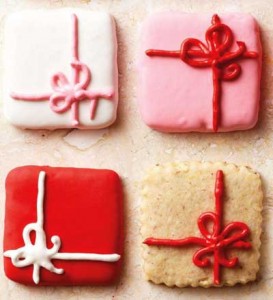 Ingredients:-
3/4 cups livered almonds,toasted
2 1/4 cups all-purposef tour
1/4 teaspoon slat
1 cup butter,softened
1/4 cup sugar
1 egg
1 teaspoon vanilla
1/2 teaspoon finely shredded lemon peel
1/4 teaspoonalmondextract(optional)
1 recipe Royalleing
Paste food colorings (such as red and pink)
Preparation:-
In a food processor process toasted almonds until finely ground. In a bowl combine the ground almonds, flour, and salt. In a large bowl beat butter and sugar with an electric mixer on medium speed until light and fluffy. Add egg, vanilla. lemon peel, and, if desired, almond extract. Beat until combined. scraping side of bowl occasionally. Beat in as much of the flour mixture as you can with the mixer. Using a wooden spoon, stir in any remaining flour mixture. Divide dough in half. Cover; chill for 2 hours or until dough is easy to handle.
Preheat oven to 350°F. On a lightly floured surface roll half of the dough at a time until 1/4 inch thick. Using a 2 1/2 to 3-Inch square cookie cutter. Cut out dough; reroll scraps as necessary (if necessary, chill scraps before rerolling). Place Cutouts 1 inch apart on an ungreased cookie sheet.
Bake for 8 to 12 minutes or umil edges are light brown and centers are set. Coolon cookie sheet for 1 minute. Transfer to a wire rack; cool.
Divide Royal Icing into three portions. If desired, leave one portion white; set aside. Tim remaining portions with desired colors paste food coloring. Divide each color of icing in half. To half of each color add water, I teaspoon at a time, until icing reaches a drizzling consistency. Spoon thinned icings onto cookies; use the back of a spoon or a thin spatula to spread icing evenly on cookie. Place cookies on a wire rack set over waxed paper. Let stand for 1 to 2 hours or until dry. Place each color of the remaining timed icings into separate pastry bags fitted with small round tips. Pipe lines and bows on dry iced cookies. Let stand I to 2 hours until dry. Makes about 48 cookies.
ROYAL ICING:-
In a large bowl stir together one 16-ounce package powdered sugar (41/4 cups), 3 tablespoons meringue powder, and '/. teaspoon cream of tartar. Add 1/2 cup warm water and 1 teaspoon vanilla. Beat with an electric mixer on low speed until combined; beat on high speed for 7 to 10 minutes or until icing is very stiff. Cover bowl with a damp paper towel and cover paper towel with plastic wrap (to prevent icing from drying out); chill for up to 48 hours.
For more information about How To Decorate Christmas Sugar Cookies Please visit Here