Pravana's Hair Care Collection is comprised of seven different categories to ensure that all hair types have the treatment they need.
Pravana shampoos and conditioners are infused with PRAVANA's proprietary Nutraceutical Complex, comprised of botanicals known for their therapeutic and healing properties, and teamed with three different hydrolyzed proteins to enhance hair's strength, elasticity and shine from the inside out.
Pravana Perfection Smooth Out
Sleek, smooth, manageable hair is now possible without risk. Achieve perfect hair effortlessly with the Perfection Smooth Out. Perfection Smooth Out is a new patent-pending innovation that instantly and safely transforms coarse, frizzy, hair to smooth and superbly shiny with results lasting 8-12 weeks.
Perfection Smooth Out employs a proprietary Nano-amino acid complex that virtually alters the internal textural memory of the hair fiber to transform it to a smoother, frizz-free state.
Top stylists choose Pravana Perfection smooth out SACHA QUARLES, the City Emmy-Nominated Stylist
Perfect hair is what I aim to achieve for all my clients, but health is my top priority. With so many misleading smoothing treatments around I was always very reluctant. Luckily, I found Perfection Smooth Out which gave me stunning results without the tradeoffs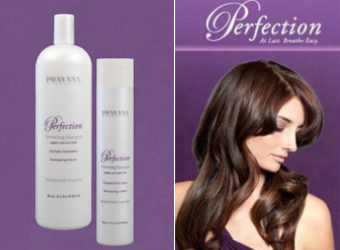 LESLIE GARDISSER
Lesli Jon Salon After Perfection Smooth Out my client's hair was transformed! Halfway through the blow dry we got to laughing with disbelief that her hair went from dry and damaged to glossy and gorgeous instantly!
NINA HALLICK
The Elite Group Hair Studio "Our clients do all the promoting for us, raving about the Perfection Smooth Out as life changing. Thanks to Perfection their hair is shiny, soft and beautiful and my appointment book is always full!"