Origins beauty is to creat hogh performance natural skin care that is powered by nature and proven by science..Origins use potent plants , organic ingredients and 100% natural essential oils..discover Origins natural skincare..nature's top ten. buy 1. sample 3 free.Origins Beauty Top Ten Products..
Origins
top ten products you must have:
in just 4 weeks nature's next generation power plant noticeably reduces wrinkle length & depth. Without the irritation. Visibly helps repair the vertical fret lines between your eyes, the stubborn furrows across your forehead and the deepening frownies that frame your mouth.
When it comes to faces with dry and oily places, it takes a clever cleanser to balance the two. This gentle, frothy face wash carefully does both jobs without canceling each other out. Broad Leaf Kelp Extract discourages excess oil production, while Wheat Protein balances and protects dry prone zones.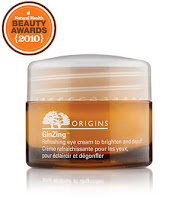 Refreshing eye cream to brighten and depuff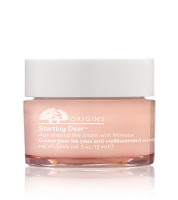 Prepare to become one of the perky people! Nature's clinically-proven morning-after eye cream instantly reduces dark circles.
Starting Over,Age-erasing eye cream with Mimosa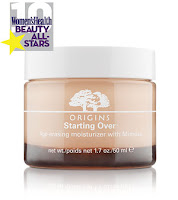 Origins advanced Mimosa and Fennel Seed formula helps reduce the appearance of eye area wrinkles. Look, it's not an injectable – but it does give fantastic results naturally without going all drastic with pain or price.
Starting Over,Age-erasing moisturizer with Mimosa
This moisturizer with Mimosa, Argan leaf and Green algae helps to rebuild collagen, repair visible lines and improve skin texture and tone.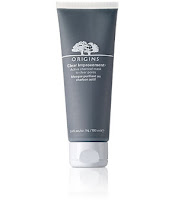 Clear Improvement,Active charcoal mask to clear pores
Once a week or as often as needed, open pores with warm, moist towel and layer mask on. Allow to dry, rinse well. Watch your skin shake off the shroud of dullness and take on a new clarity.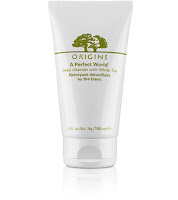 A Perfect World,Antioxidant cleanser with White Tea
This perfect foaming-face wash is formulated with nature's rare Silver Tipped White Tea.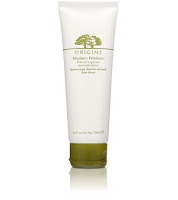 Modern Friction,Nature's gentle dermabrasion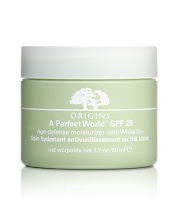 Lemon Oil kick starts the process of illumination. Another age-sweeping action: skin-menacing molecules are mopped up. All while Aloe keeps skin calm and comfy.
A Perfect World SPF 25,Age-defense moisturizer with White Tea
This super-charged, antioxidant moisturizer with White Tea, Maritime Pine and UVA/UVB sunscreens surrounds skin in a protective bubble to help delay the appearance of premature aging signs. Oil-free.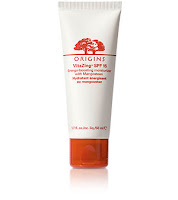 Origins VitaZing, SPF 15 Energy-boosting moisturizer
This multi-tasking moisturizer handles the vital jobs of hydrating, energizing and protecting to maintain skin's momentum all day