The Pedicure Socks and this is it. A great design for all types of feet. A heavier weight thick cotton blend. Triple weave body for cozy warmth and cushion. A must for Wintertime pedicures….Colder climates love this Pedi-Sox.
Wear these alone or with sandals and you are sure to get noticed. Toe Pedicure Socks has unique five- toe design allows the entire foot to perform naturally, encouraging the toes to separate and activate the muscles in the feet.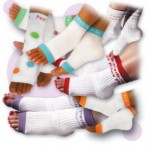 Toe socks increase dexterity and tactile sensitivity and awareness during any activity. Here we have several colors of pedicure socks and suitable in winter weather, Have a look and you will like it. Pedi-Sox encourage wintertime pedicure services. Feet stay comfy and cozy warm; and freshly pedicured feet stay clean. Moisturizers absorb better.
for softer and smoother skin. Slip on Pedi-Sox as the final step before you paint the toenails. It's that easy! Extra thick premium cotton make Pedi-Sox comfortable to walk in alone or with sandals. Foot caressing California Lite Weight Pedi-Sox are perfect for warmer climates. Fun & Fashionable Colors and Styles.