New Years is just around the corner.. Be inspired by these of the moment looks that will stand the test of time. Many homeowners are staying in their house longer and need to make the proper adjustments. Here are the New Home Trends for New Year .
Office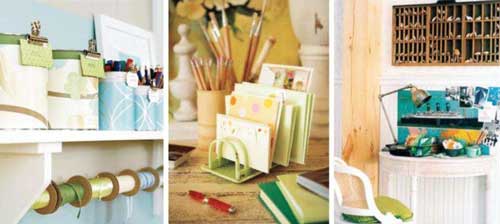 Reinventing basic objects is an efficient and effective way to organize your home office For instance. empty food cans wrapped in colorful paper instantly become eye-catching catch-ails for art, craft and office supplies: a toast rack turned stationery holder makes greeting cards easy to find and creates a pretty desktop accessory.
Avoid boring utilitarian office storage solutions and instead use an eclectic mix of teacups, bowls and wire baskets to wrangle paperwork and miscellaneous objects – not only does it create order in a small office but it also gives a one-of-a-kind look to your space.
Kitchen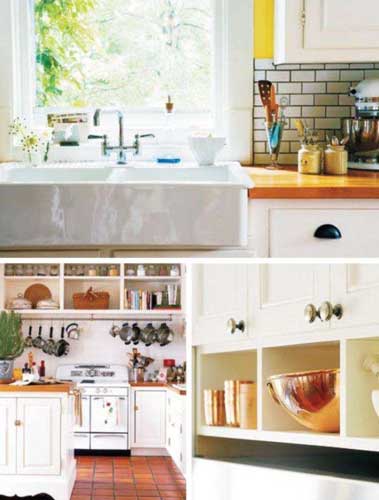 Found at flea markets and craft supply stores, inexpensive metal pin flower frogs make perfect holders for recipe cards and reminders.
Free up valuable drawer space by corralling everyday utensils in counter-worthy pieces like mustard crocks and tulip-shaped sundae glasses.
Open shelving and a rod to hang pots and pans keep kitchen essentials within easy reach and allow you to have designated spots for all your wares.
Living Room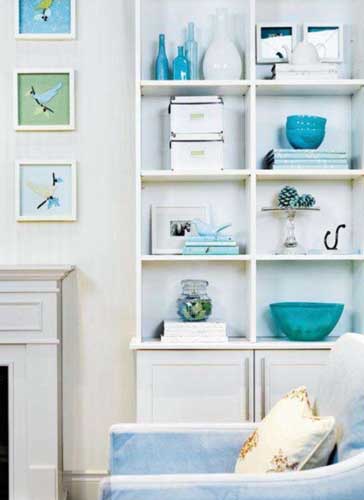 Bookcases and shelving units are an ideal way to display the many different objects you've collected over the years. To create a cohesive look, group together items in the same color way – here we've stuck to various shades of blue.
Incorporate decorative boxes to hide small electronics and random knick-knacks. Out of wall space? Layer in framed family photos and pieces of art for an added personal touch.
Entry Way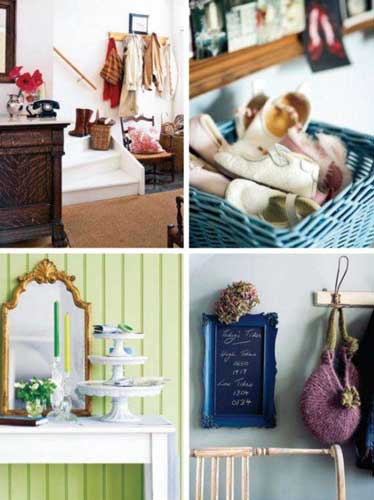 Wicker baskets are a tried-and-true organizing solution. and along with standard hooks, they're the workhorses of the entryway.
Baskets of different colors, shapes and sizes help to keep like Items together, such as hats, scarves and umbrellas, and indicate which ones belong to each family member. On a console, a stack of cake stands serves as a mail tray, while a framed blackboard is a handy reminder of errands and appointments.
Bedroom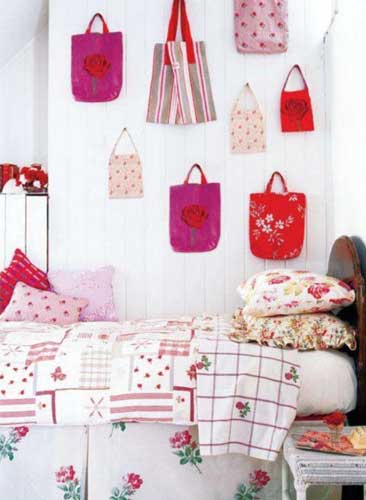 Before buying another storage system in new years, think about using the space you already have – like an expanse of wall. A collection of similar items, such as these cute fabric tote bags, has graphic appeal when hung together on a wall.
Arrange the items in an asymmetrical pattern and hang them with thumbtacks or push-pins, This keeps everything in a single. easy-to-access spot – and the display doubles as a fun art piece.
Bathroom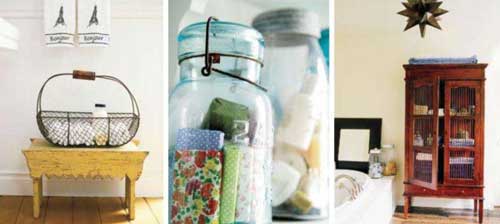 A farmhouse-style wire basket is a stylishly unexpected holding place for extra hand towels and other necessities in new years, which proves especially useful in bathrooms without under-sink storage.
Repurpose all those mini soaps, shampoos and lotions you've collected on your travels by using them as a decorative element; simply fill up a few vintage glass jars and Sit them along a shelf. If you have the room. include a beautiful armoire to act as additional storage and to add character.