Nail stained glass effect spring summer 2012. Looking to spice up your client's nails for the fall season? Try this look created by Christina Estabrooks and the CND nail team for the 2012 Spring shows at New York's Mercedes Benz Fashion Week.
Follow these steps to get the look: stained glass Effect .
1. Apply a base coat, two coats of Gold Chrome Color, then a top coat.
2. Polish one coat of Midnight Sapphire Color from the cuticle, just short of the smile line. Using a stylus, detail the smile line.
3. Place random drops of Ice Blue Shimmer Effect while the Midnight Sapphire Color is still wet.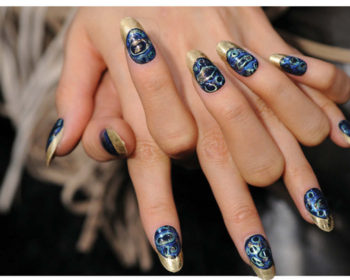 4. On the wet nail, place smaller random drops of Midnight Sapphire Color on top of the Ice Blue Shimmer Effect drops.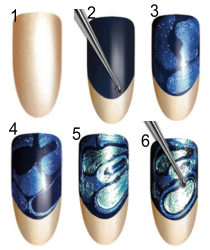 5. Place smaller Gold Pearl Effect drops on top of Midnight Sapphire Color drops while wet.
6. On the wet nail, place tiny drops of Midnight Color on top of a few Gold Pearl Effect drops and let dry.
Using a stylus, detail with Sheer 24K Sparkle Effect and let dry. Apply top coat. Nail art for 2012.