Skin is the biggest organ in our bodies and is affected by two different types of ageing intrinsic and extrinsic ageing. Intrinsic ageing is when the body ages over a natural course of time. How your skin ages, and to what degree, is influenced by genetics.
Extrinsic aging is when external factors such as sunlight, lack of sleep, poor diet and smoking put your skin under additional pressure, and can trigger premature ageing.
This part of the ageing process can be influenced. Meaningful Beauty is collaboration between Jean-Lois Sebagh and Cindy Crawford a supermodel and a cosmetic surgeon working together to design the best product possible.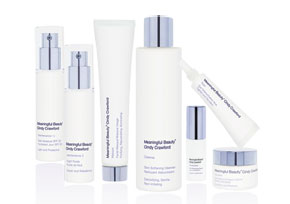 Cindy Crawford Meaningful Beauty new Skin Care System
is perfectly fit for skin care A huge variety of beauty products and skin care products are manufactured by the giant Cindy Crawford Meaningful Beauty. Regular use, Meaningful Beauty helps to defend your skin.
All of these products contain the superoxide dismutase melon extract as one of their main ingredients. You can purchase Meaningful Beauty Kit in a 30-day.

Cleanse – Skin Softening Cleanser
Cleansing is an important part of your daily skincare routine.  Meaningful Beauty Cleanse is a non-irritating formula that won't strip your skin of essential oils.
Non-foaming texture to remove makeup and impurities.
Leaves skin clean and glowing – not tight and dry.

Maintenance 1 – Day Moisture with SPF
Meaningful Beauty Day Moisture is a silky smooth day cream that moisturises, protects and refreshes the look of your skin.
Featherweight formula.
Helps to smooth and brighten your complexion.

Maintenance 2 – Night Fluide
Meaningful Beauty Night Fluide is a great way to achieve smooth-feeling skin.
Formula is designed to help reduce the appearance of fine lines.
Leaves skin feeling softer.

Eyes – Eye Crème
The delicate skin around your eyes has specific challenges.  Meaningful Beauty® Eyes is designed to gently soothe this sensitive area of the face.
Helps smooth the appearance of visible lines and wrinkles.
Tones and smoothes the overall appearance of the skin around your eyes.

Masque – Facial Masque
There's a reason we call this our 'facial-in-a-bottle'!  You'll feel the difference in your skin after only 20 minutes.
Deep-cleans and revives stressed-out skin.
Dry, dead surface cells are lifted off and skin-dulling impurities are removed.

Décolleté – Décolleté and Neck Crème
An extra silky formula that helps to firm and moisturize your skin in this often neglected area of the face and chest.
Helps smooth the appearance of visible lines and wrinkles.
Using Décolleté and Neck Crème feels like a treat!

Glowing Serum – Skin Revitalizing Serum
Transform dull, tired skin into fresh, glowing skin.  Apply Meaningful Beauty's Glowing Serum as an instant pick-me-up for a special event or any time you want to look radiant.
Designed to smooth and condition to show the skin's natural vitality and brightness.
Helps to revitalize the skin.
I think you'll love Cindy Crawford Meaningful Beauty New Advanced Skin Care System as much as I do. Check-out Vervena Laser Hair Removal Hairless And Careless.
As usual, we are looking forward to your reactions. See anything that would suit you in Cindy Crawford Meaningful Beauty New Advanced Skin Care System ?. For more info visit  Cindy Crawford Meaningful Beauty