Lady Gaga began her career as a songwriter for artists like The Pussycat Dolls, Fergie, Britney Spears and Akon. She released her own album The Fame in 2008 and it was a huge success.
The bleached blonde artist is also known for her unique fashion sense.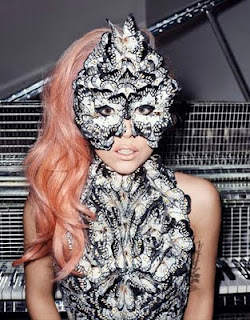 Dress and mask, by special order, Alexander McQueen.
Lady Gaga makes a dramatic entrance at the 2010 MTV Video Music Awards in a magnificent Alexander McQueen gown complete with outrageous Alexander McQueen Spring 2010 armadillo heels.