The veil is made of layers of soft, ivory silk tulle with a trim of hand-embroidered flowers, which was embroidered by the Royal School of Needlework.
The tiara was presented to Princess Elizabeth (now The Queen) by her mother on the occasion of her 18th birthday.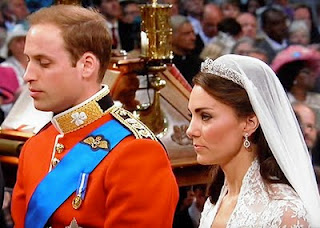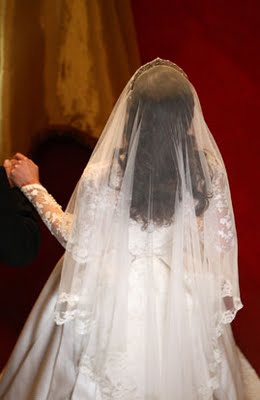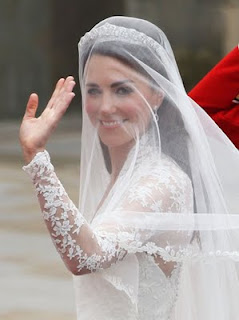 The Bride's earrings,by Robinson Pelham, are diamond-set stylised oak leaves with a pear shaped diamond set drop and a pavé set diamond acorn suspended in the centre.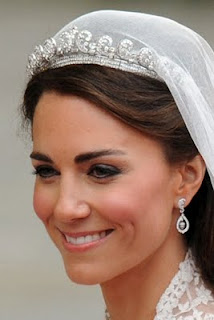 Bouquet:
The bouquet is a shield-shaped wired bouquet of myrtle, lily-of-the-valley, sweet William and hyacinth. The bouquet was designed by Shane Connolly and draws on the traditions of flowers of significance for the Royal Family, the Middleton family and on the Language of Flowers.
Catherine Middleton took great care when it came to choosing the petals in her bouquet by incorporating the following flowers due to their symbols: Sweet William for gallantry, Hyacinths for love, Ivy for fidelity and marriage, Lily of the Valley for happiness and, in royal tradition, myrtle, for marriage and love.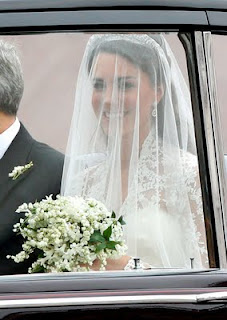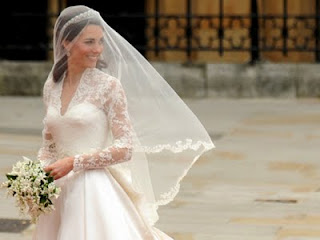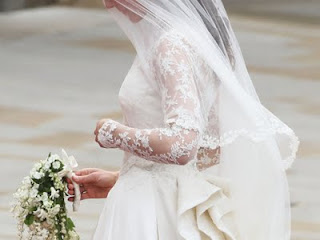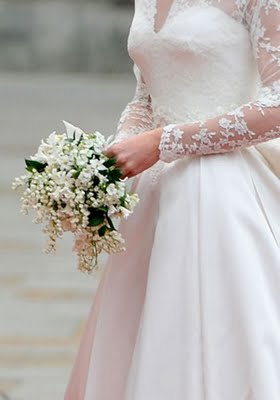 Shoes:
The wedding shoes have made hand-made by the team at Alexander McQueen and are made of ivory satin with lace hand-embroidered by the Royal School of Needlework.