Women of the Year award winner Jennifer Lopez attends Glamour's 2011 Women of the Year Awards in New York. Jennifer Lopez wowed red carpet bystanders and fashion connoisseurs alike when she stepped out for Glamour's annual Women of the Year event Awards. In her campaign to re-establish herself atop Hollywood's A-List, Lopez shined in her in an Atelier Versace gown with a curve-hugging silhouette and hip-high slit. Jennifer Lopez In Versace Fall Fashion 2011.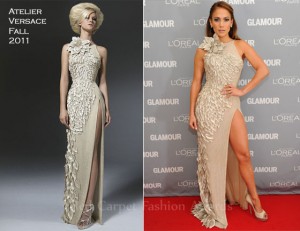 Jennifer Lopez stepped out a hot leg flashing dress at the Glamour of the year awards in New York City last night. Jennifer wore her hair down and showed her natural beauty in a subtle smokey eye and lips.
Donatella Versace  introduced Jennifer Lopez, while legendary band blondie took the stage for a night to remember performance. Others who attended included La la Anthony, Jennifer Aniston, Jessica Alba, Arianna Hufftington, Ema Stone, Chelsea Handler among others. Keep checking back for more updates and red carpet photos.