Split ends occur when the hair becomes weak and begins to break towards the end of the hair shaft. Environmental stressors such as the sun, heat and the use of various styling products contribute to the amount of split ends you have. Other factors such as poor diet, and brushing hair when it is wet, also contribute to split ends. we will know how to treat split ends in your hair.
How to remove split ends, There is no true way to remove split ends, aside from cutting your hair, treatment for split ends:
If you have split ends in your hair. The scientific name is Trichoptilosis, a longitudinal splitting of the hair fiber, and there are several types to treatment for split ends:  Cut snip of hair off. Cut 1/4 or inch. You can do this by yourself.
Get your hair cut regularly, every six to eight weeks. All hair gets damaged after a while. Get a trim your hair of at least 1/4 to 1 inches, and you should have solved the problem. It will remove split ends from your damaged hair and keep your hair healthy and growing strong.
Can a split end be saved?  With many hair products on the market promise to mend split ends, these hair treatments upside down: you can not permanently fix a split hair ends , you can smooth your hair by hair treatment products, with hair serums and natural oils like olive oil that stay put until you wash again, but the only way to get rid of a split ends is to cut it off.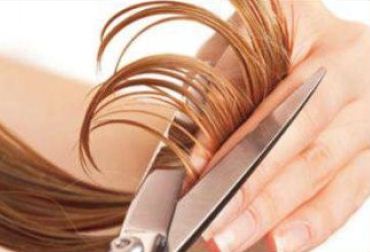 using nourishing and heat protective products helps strengthen strands and prevent breakage smooth hair out, for a quick fix your hair, products that seal split ends work to create the appearance of healthier hair Trim tactics, regular trims eliminate split ends and promote healthier hair growth.
Split hair ends treatment products:
Eufora thickening serum, this is new serum targets hair where it natters most,the aloe based formula plumps up thinning strands and prevents split ends by creating an optimum scalp environment for healthy hair growth, it also doubles as a smoothing treatment.
Ferrum professional styler, the healthy hair iron, heat based tools are the number one culprit behind breakage. this hair styler looks standard but the tourmaline coated ceramic plates.
Oribe hair care royal blowout heat styler spray, this moisturizing mist quenches even the most dried out locks to condition and protect hair. but the real benefit is its ability to speed up blow drying time so strands are under less heat induced stress.
No.4 Fluoro5 elixer, strengthening oil, when used on either wet or dry hair, immediately smooths and adds shine to even the most brittle of strands. vitamin C works to protect hair and moisturize as it treats tresses.