All women love makeup and always they want to make stylish look for their face, especially their eyes, They Interested in eye makeup, especially smokey eyes makeup, smokey eyes makeup have been a big style in eyes makeup world. smokey eye makeup has several types, black smokey eye, green smokey eyes, gray smokey eyes,blue smokey eye, brown smokey eye, and gold smokey eyes .The secret to the perfect smokey eye, it's important to mix light base colors with dark colors. Come with us and learn how to make smokey eyes makeup. You will need to do smokey eye makeup,
Eye primer, it's great for keeping your eyeshadow in place.
2 eyeshadow ( powder and cream shadow) : one light, one darker
Eyeliner pencil, and liquid eyeliner.
makeup brushes for eye, eyeliner brush.
black mascara : waterproof mascara or volumizing mascara.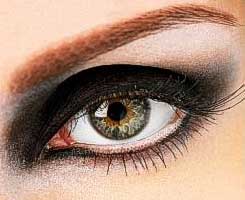 Smokey eye makeup tips:
1. Prepare the eyelids: Apply a concealer cream over your Upper eyelids to create the eye make up base for eye shadow.
2. Apply a eye liner pencil in black or gray color, apply it above the upper lash line, drawing line in the middle of eye. from the inner corner to the outer. And smudge both lash lines with an eyeliner brush.
3. Apply powder shadow brown , gray, and dark green all those colors work with black or gray liner, apply eye shadow over your eyelid and into your crease, blending color up and outward.
for give your eyelids more shimmery finish, you can put a cream eyeshadow over the concealer on your eyelid first, and wait 3 minutes to dry, then top with mixing powder eyeshadow. And put dust a lighter, neutral eyeshadow over your eyebrow bone.
4. Finish your look with several coats of black mascara . If you don't have long, curled lashes, curl your lashes with a lash curler ( curling mascara ) first.