One of the biggest trends in fashion this year 2013 not only for clothing or hairstyles but also in nail designs, all people talking about nail length, nail shapes, nail colour, here we talking about tuxedo nail art designs. First seen on the runway fall winter 2012 show, but we seen it at 2012 Golden Globes by the famous actor Zooey Deschanel. Tuxedo nails became a new crazy fashion in nails designs world. You can do Zooey Tuxedo nails by yourself with few nail products from nail polish brand OPI, without use nail stamping. How to do tuxedo nails.
Here is tuxedo nails in 6 easy steps:
Step 1: Shaping the nail to be rounded on the corners and flat across the top.
Step 2: put Nicole by OPI base coat plus and paint on it two thin coats of OPI Alpine snow white lacquer.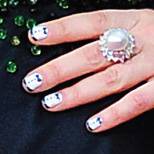 Step 3: paint with dark lacquer five dots, you can use Nicole by OPI dark lacquer.
Step 4: Continue with the same colour, make the bow by painting two triangles using a thin nail brush or a pointy eyeliner brush.
Step 5: paint with a thin brush four dots for the buttons above the bow tie.
Step 6: don't forget to do the tip, start from each nail corner and go into the middle. use Nicole by OPI top coat plus to protect your work and add shine for tuxedo nail.
Here we completed the tuxedo nails look, you can make it on your nails in valentine's day party, wedding, or any party, try it and you will be shine, i think these nails look cute.