How to Buy a Cheap Mattress
How to Buy a Cheap Mattress 
That Fits Your Budget , it is important to find the right mattress that suits you best. People spend about 1/3 of their life sleeping on a mattress. Finding a cheap mattress that suits you and your budget is an important step in having a good nights sleep.
Instructions:
Make a budget. Determine how much you want to spend on your mattress or mattress set. Write this number down and stick to it while you are shopping for a cheap mattress.

Visit review sites. Review sites will help you find the highest rated mattress in a specified cost range. Most review sites will allow you to sort by ratings and price to help you find the best mattress for your budget. Write down the top rated mattresses.

Take your list of mattresses from the review sites and locate them in stores. Many department stores sell mattresses at discount prices. It is important to try the mattress out before you purchase it. Lay down on the mattress for at least 5 minutes to get the feel of the mattress and see if it suits your needs.

Only buy a mattress that is on sale. Companies are always having sales on mattress sets so you should never pay full retail for one. Shop around the holidays to get the best discount.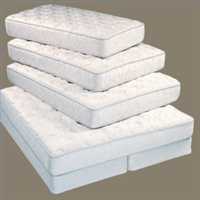 Subscribe

to Stylish Trendy