Puttin' On The Glitz
Holiday-ready Makeup that's sure to make you Sparkle
Tis the season to be jolly and with holiday celebrations just around the corner, you'll likely be invited to a partyor two. So with the festivities in mind, why not embrace some of the current beauty trends and spruce lip your evening makeup? We talked with makeup artists to find out the latest trends and how you can wear them this season.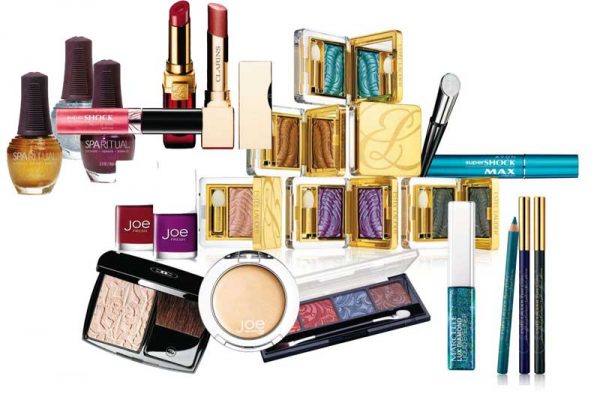 Add Some Shimmer
There's shimmer and sparkle everywhere this season, especially with eye makeup and powders. Celebrity makeup artist David Goveia says you can take your makeup from daytime to evening simply by adding a shimmery high lighter to the top of your cheekbones and then darkening your lashes and lash lines. Lumiere Sculptee de Chanel ($74) is a highlighter with just the right amount of sparkle. For a less expensive alternative, opt for Lustre Highlighter ($8) from Joe Fresh Beauty, available at select Loblaws and Superstores across Canada. If you do buy a shimmery highlighter, Lynne Ryan, the national makeup artist for Murale (Shoppers Drug Mart's dedicated beauty stores), advises that you use it sparingly, especially if you're heading to a function where people are taking pictures, as it can make your skin look oily rather than fresh. "Just apply it to the cheekbones and maybe a little on the tip of your nose, which goes wonderfully if YOll already have glittery eyes," she says. Sparkling eyeliners and shadows are everywhere this season. Yves Saint Laurent has new eyeshadow compacts, Ombres Duo Lumieres($52), which feature a black and either gold or silver powder shadow that is perfect for lining and highlighting the eyes. If you're looking to add more colour to your lids, try the vibrant mauves found in Marcelle Fantasia Eye Shadow Quad Palette in Fairytale Mix ($15.95)or try the sparkly Lux Diamond Liquid Eyeliner in Magic Crystals ($11.95). If you've used shimmery eyeshadows in the past and found that they crease and don't wear well, don't let that put you off, Ryan says,because the new formulas are much better now-they stay out of the crease and don't smudge the way they used to. Estee Lauder Pure Color Gelee Powder EyeShadows ($28 each) have a unique texture that can be put on with a wet or dry brush. They're long-lasting, resist creasing, and come in a variety of limited edition metallic shades. There's also a selection of intense colour eyeliners in the same line.
Dramatic Lashes
Long sweeping eyelashes are most definitely in fashion and there's been a huge resurgence in the use of false eyelashes. Ryan says false lashes are an easy way to add instant glamour, whether you go for a full set or just a few individually placed lashes. You can easily pick up false lashes at most drug stores and beauty counters these days. If you don't like the idea of false eyelashes or you've always had a hard time putting them on, don't worrythere are lots of mascaras offering results that look just as good. Almost every makeup brand these days is touting a mascara that will make your lashes look long and voluminous. The SuperSHOCK Max Mascara from Avon ($9.99) promises huge lashes with one sweep of the brush, and designer Thierry Mugler's new beauty line has a lash-lengthening mascara called Metamorphose ($33). Another option for big lashes is to get some fake ones put on by a professional. There are many salons and spas these days that will apply false eyelashes that are either semi-permanent (lasting around six weeks) or permanent (lasting the lifetime of the lash it is attached to, which could be a couple of years). Lauren Spencer, owner of The Lash Bar in Streetsville, ON, a spa that specializes in applying permanent lashes, says these types of lash applications are great for women who feel their lashes have lost volume over the years. "They work brilliantly for women of all ages; I have several regular clients who are in their 70s. The application takes about an hour and they require very little maintenance other than fill-ins as the lashes naturally fall out," Spencer says. She adds that you can choose to have fewer lashes put in if you're not looking for that red-carpet look.
Deep and Rich Nails
Over the past few years, fashion has seen a darkening ofpolish colours for winter, and this year is no exception, but there are plenty of alternatives. Metallicpolishes are quite trendy this and can make a well-manicured hand look very smart (these can look especially good on shorter nails, too). Spakitual, a line of formaldehyde- and toluene- free nail lacquers, has a pretty line of sparklyand metallic polishes retailingat $11.95 each (www.sparitual.com). If glitter just isn't your thing, bright jewel tones are everywhere this season. Joe Fresh has bright polishes in great colours and at a budget-friendly price ($4 each). Perfect Pouts While deep red lips are always in style, Goveiaadvises skipping the typical red lipstick that often signals Christmas or the holidays. "It can age you. Switch to a more natural colour, and instead add a little colour emphasis to the eyes," he says. Lynne says if you're going to embrace red or other bold lip colours, YOll need to make sure your eyeliner or mascara has a little more punch to it. "That way, the lip isn't too over-powering and there's balance-the makeup isn't wearing you." Many of the new red and darker lipsticks have brown and purple tones, which don't make them as shocking. "You don't want the red to be too pronounced. You need to find the right colour to go with your skin tone and your hair," Lynne says. Thierry Mugler's  Rouge Unique in Metallic Red ($35) has purple tones, is glossy, and has a little sparkle and feels smooth on the lips-without being too gi rly. For a sophisticated and glamorous look, Clarins Rouge Prodige in Passion Pink ($26) is long-lasting and has an intense colour and shine. Glosses are also very trendy, and if you're a fan of reds and don't want to ditch them completely, you might want to try a sheer gloss such as Avon's SuperSHOCK Liquid Lip Shine in Popsicle ($9.99) .hair styles,short hair,hair color,long hair,black hair,hair cuts,brown hair,hair extensions,wavy hair,red hair,curly hair,hair dye,long hairstyles,short hairstyles,medium hairstyles,short hair,haircuts,black hairstyles,hairstyles for women,cute hairstyles