If you are like Cara of The Picky Apple, then you watch your neighbors go all out with their Halloween lawn decorations at their homes. She was inspired to decorate her door for Halloween in a happy, cute, fun way with this brightly colored Happy Halloween Ribbon Wreath. Happy Halloween Ribbon Wreath do it yourself. Halloween crafts.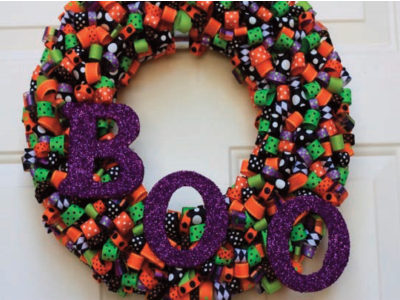 MATERIALS:
A wreath form (size depends on you)
Black ribbon – to wrap around your wreath form, about 15 feet should do it.
Colored ribbons – about 5 feet of each color
One inch blocks or beads
Styrofoam letters or numbers
Glitter
Hot glue gun
Gorilla glue
Decoupage Glue (Mod Podge)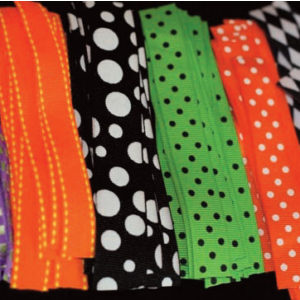 DIRECTIONS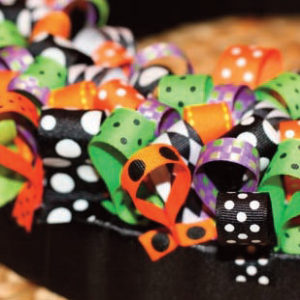 Wrap a 12" foam wreath form in wide ribbon. Cara used black, pinning it at first and gluing it down with Gorilla Glue as she went.
Now, let the ribbon cutting begin! "You're going to need lots and lots of ribbon," cautions Cara. "How much will depend on how
thick you bunch the ribbons together and whether you completely cover the inside and outside of the wreath instead of just the front."
Create loops with the ribbons by folding in half and hot gluing each one closed.3. Cut ribbons of your pattern and color choice into lengths about four to five inches in length. Helpful Tip: use varying widths of ribbon. "I wish I had used more wide ribbon."
Fold each ribbon in half and sew each one closed. If you don't have a sewing machine, you can hot glue each one closed. Helpful Tip: avoid sheer ribbon. "Unless you enjoy getting hot glue all over your fingers."
Once all of your ribbons have dried, it's time to start gluing your ribbon loops to the wreath form. Separate the part of the ribbon below the "seam" you created.
Keep adding more loops to your wreath, placing them at random angles. By placing them close together your wreath will look nice and full. Optional Add On: Add letters with pizzazz!
Use a coat of mod podge to Styrofoam letters and cover in glitter.
Combine letters to spell out word of your choice. For Halloween try, spooky, boo, or treat.
Take your one inch blocks or beads and hot glue them to the wreath. This will give your letters dimension off of the wreath and ribbon. Glue the glittery letters to the blocks to spell out your word. Do it for Halloween and you will enjoy.