If you're in love with cake bunting, you'll love when it gets creative! This fun Halloween cake bunting banner comes courtesy of To Be Charmed. It's such a cute way to add a little scary to your Halloween party cake and takes very little time to make guest scream with delight. Do it yourself  Halloween Cake Bunting Banner.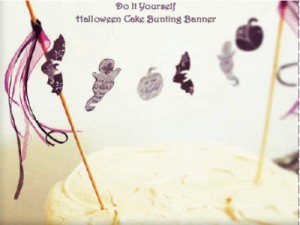 MATERIALS:
1. Bamboo skewers   2. Halloween stickers   3. Decorative paper   4. String   5. Ribbon   6. Glue gun
DIRECTIONS:
1. Using the Halloween stickers, trace the shapes onto the decorative paper and cut out the shapes.
2. Cut the ribbon and embellish the bamboo skewers.
3. With your glue gun, attach the Halloween shapes to the string and attach to the bamboo skewers. Enjoy 🙂