Hair Color Trends 2013
Hair color is the latest fashion in town. Every person in this generation seems to color their hair in different  shades of red, brown, magenta, blue and much more. It really does not matter whether you have grey hair or not, coloring your hair is the trend today. Hair color is a sort of pigmentation that sticks to your hair. Natural hair colors can be straight black hair, brown hair, blonde hair, red hair, grey hair, white hair, and etcetera.
There are two types of pigments that control hair color. They are eumelanin and pheomelanin. Pheomelanin gives us yellow and orange colors while eumelanin gives us black and brown colors. Conditions that effect hair color are aging, artificial factors, medications, and also lack of some vitamins. Hair colors can be made semi permanent  and permanent. This is a cosmetic theory mostly taking place to hide grey hair and change hair color as a fashion. It is extremely popular. Seventy five percent of American women have their hair colored.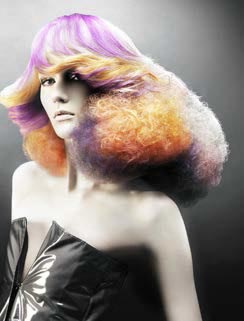 The hair color ideas are not new. Hair style colors that will trend in 2013 are purple color for long hair, Asymmetric Long Red Hairstyle with Blunt Bangs, Asian Short Rainbow Bob Hairstyle, red curly bob hairstyle, Medium Fiery Red Wavy Hairstyle, short curly hairstyle with highlights, Short Fauxhawk Hairstyle with red highlights and a lot more. Braids will make a strong comeback with more ombre and color filled tresses. Short hair styles will continue to dominate the beauty world with different colors L'Oreal brings you an exciting interactive experience. They have celebrity and hair color experts to assist you through out. With their expert  help you can achieve your dream hair color Semi permanent hair color goes off after a few washes. If you are new to hair color start with semi permanent and go for lighter shades. Some hair color ideas to be followed in 2013:
Hair Color Tips for 2013
Find out your hair is cool or warm.
Choose the correct  shade.
Find out if you make a good blonde.
Hide the grey, go red.
Take expert help to take professional care of your hair.
Do not go for extreme colors, go light on your hair.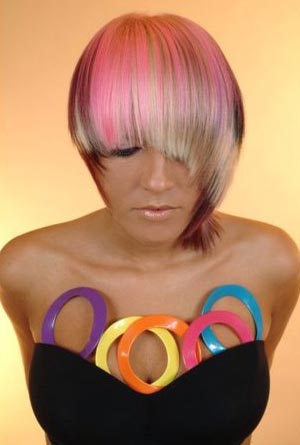 The hottest colors that are trending in 2012 and going to be in 2013 also are bronde, ombre, platinum and bright hues. Now the question is should you color your hair on your own? The answer is yes you can. Home hair dye kits have come a long long way. You can cut the cost of professional dyeing by doing it  yourself. The color packs contain a full leaflet of instructions which is easy to follow and use. Highlights usually go very well with blondes and brunettes. One can also try the two shade rule which is also in latest fashion. Do not always go for the picture on the box. Do a proper research before going for hair color. Always test with a few strands first.
Use special hair conditioner and shampoo to take care of hair post coloring. Wash your hair a day ahead of coloring not on the day of coloring.  Also post coloring wait for a day before using a shampoo and conditioner. Photos by Good Salon Guide.
Subscribe

to Stylish Trendy