Glamour Holiday Special Occasion Hair Cuts 2012
Glamour holidays special occasion hair cuts 2012. Style It Up. Speed It Up.  Add glamour to your clients' holidays by updating your special occasion hair expertise. When Leonel Rodriguez and his team from Farouk Systems did the hair for this year's Miss USA pageant, they had to turn around those updos almost instantly. While you don't have that kind of pressure at the salon, you can only benefit from speeding up the styling. "In this economy it's difficult to charge clients for the two hours it can take to create a traditional updo," says Luis Alvarez, creative director at Aquage. "Charge them a reasonable price, and give them a design you can deliver in a short period of time so you're not cutting your margins." Luckily, fashion and beauty trends are cooperating! "For holiday we're projecting shapes that are deconstructed, random, loose and organic," Alvarez continues. "Overlays, patterns, interlaced sections and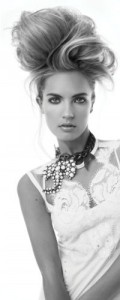 textural details transform the surface of the hair, supported by an underlying structure and retaining a classic appeal.
What's cool is these styles can be executed in 10 or 15 minutes, but they look fresh and are very sellable. Maintenance is minimal—they improve with wear!" For an important event, ask the client to come in for a trial run, just as you would for bridal hair, and bring photos of what she likes. During the consultation, find out more about the party and what she expects to be doing. Updo Confidential Rodriguez shares his tips and tricks for creating holiday updos:
• It's easier to anchor pins if the hair has bend than if it's very smooth. Develop texture and body in the hair by using a clipless, rod-style curling iron like the CHI Orbit Digital Ceramic Curler or the CHI Styler. The non-stick ceramic coating is the same as CHI irons' ceramic plate coating.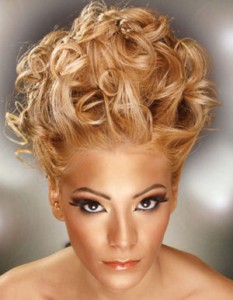 • Use a hair filler form if you're aiming for a classically smooth look. For a rougher texture, create volume underneath with the CHI backcombing brush.
• To dress up any special occasion look, try an unexpected accessory like a brooch you can "pin" onto the hair, or a necklace you can weave and lace into the style. This will give you a runway inspired look.
• A dual spray like CHI Ultimate Control can be used as both a working spray while the hair is wet and a finishing spray when the hair is dry. This season's updos are super easy and super fast, but you're not short changing the client by throwing in something sloppy.
Just the opposite—it's exactly what clients are looking for today.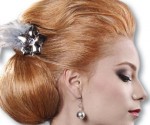 Luis Alvarez, Aquage is taking advantage of the holiday hair season to boost retail sales by launching Biomega Firm and Fabulous hairspray. It delivers a firm hold and high shine but leaves hair brush able. "Let's say you do an updo on a client and finish with this spray," says Alvarez. "The style has lasted all night, so when the client takes it down she expects her hair to be stiff. Instead, she brushes right through it! That's a product she'll want for herself, and she'll ask about it at her next visit." Alvarez adds that the spray permits adjustments during styling because it's workable. "You can change your mind," he explains. "I call it low-commitment hairspray."
Subscribe

to Stylish Trendy