The holiday season calls for a special look. Here's some ideas that will make every night of this season that much more special for Christmas day party. Christmas makeup for Christmas 2011-2012, Glam it up, This holiday season is all about the perfect red lip and shimmery shades on glamorous eyes.
Lips, Bright red lips add a sophisticated touch to any holiday look. Shiny lips are always pretty.
Skin, Skin is flawless with a matte finish, creating the perfect palette for the eyes and lips. When it (Christmas)comes to getting holiday pretty, blush is non-negotiable. Amp up your natural rosiness by mixing complementary blush colors, one darker and one lighter. Or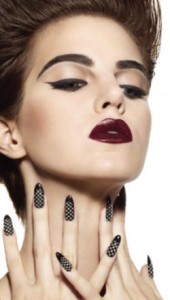 start off light with the paler shade in the compact and tweak it by layering its darker counterpart over it.
Eyes. this season's eyes are adorned with shimmery purples for Christmas , greens and taupes paired with dramatic eyelashes and black eyeliner. make up your eyes, that's what! A color that's this multitextured will work harder for you, too. "The trick is to contain it between the lid and the crease," advises Sheriff. "Don't take it up to the brow bone — that's very 1980s." If you go overboard, soften the color with a makeup sponge, take basic gray shadow and infuse it with flecks of gold, purple, and green.
Holiday lashes, Hand-dipped in ultra-ne, colored crystals and freeze-dried for stay-put shimmer, Nova Lash's candied lashes can be applied to the outer corner of the eyes for a look-at-me holiday look! Candied Lashes options include: Cinnamon Toast (brown), Blue
Raspberry (blue), Mint Chocolate Chip (green), Pink Lemonade (pink), Butterscotch (gold), Sugar Plum (purple) and Licorice (black).
Nails, the beauty of your manicure by providing a proper base for your polish and protection from stainin. Gloss and shine manicure.colored nails are your holiday must-have for instant drama. Richer than red and more wearable than the black nail polish that has been showing up on every starlet's fingertips lately, burgundy has a modern feel that will never go out of style. Try Fast Drying Base coat, Sally Hansen Diamond Strength No Chip Nail Color in Chocolate Kiss and Cover Girl Continuous Color Nail Polish in Cherry Brandy. This was Christmas makeup tips and ideas, I hope it was useful to you. Have a look on photos: