Make night glam makeup yourself in five minutes by Katrina Hess makeup artist , in 6 steps , the firest step for make glam makeup: Touch up any redness and breakouts with concealer, and soak up T-zone shine with a light layer of powder.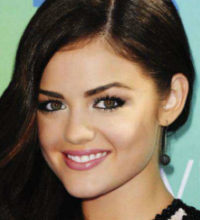 1- Run jet black eyeliner pencil along your inner rims.
This creates a bold contrast against the whites of your eyes the fastest way to look night out sexy.
2- Now sweep the pencil across your upper lash line, starting thin at inner corners and getting thicker.

Smudge outer corners, the darkness creates ap.m. perfect smokiness, and add bronze shadow to lids and creases.

3a- To bring tons of light to the eye area, dot highlighting cream on your inner corners.

3b- Then apply it in a C shape from temples to the tops of cheekbones.

4- Hold your mascara wand vertically, and run it along the tips of your lashes to add extra length. When dry, curl upper lashes at the root so they stand up straight and look even longer.
5- Swipe on a neutral lip gloss, dabbing an extra does on the center of lips.

The extra sheen will add a super sexy vibe.