Over the past few years, it seems Americans have developed a love/ hate relationship with the sun. While we love basking in its golden glow, and letting sunlight soak into our bones, we abhor what those glorious rays do to our skin. Unprotected sun exposure can result in wrinkles, age spots and even skin cancer, all things we'd rather not experience.
It might seem the only sensible solution is to stay indoors, but luckily there are other options. Thanks to a wide variety of skin cremes and lotions which contain sunscreen, we can have fun in the sun and still be safe from its damaging rays.
Sunscreen
The SPF factor isn't the only reason we choose a sunscreen. A sun block must have pleasant fragrance,  a nice light texture and   work well under make up  for anyone to actually rub it into their skin. Here's five that get high marks from public opinion polls.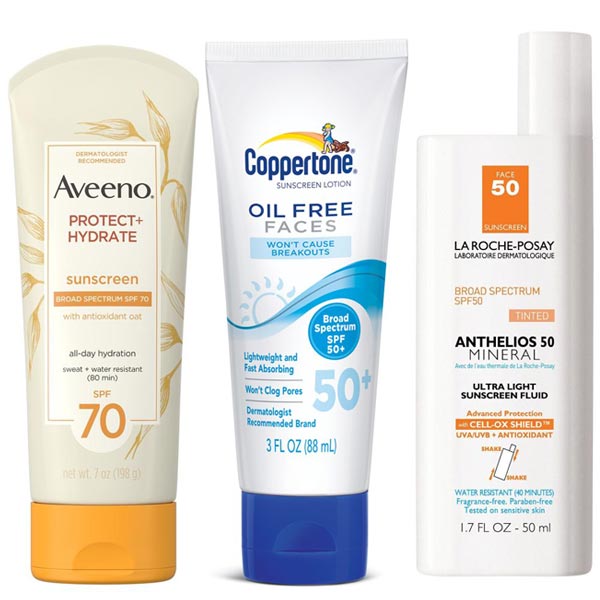 La Roche – Posay Mineral Ultra Lite Sunscreen Fluid SPF50
This is a barely tinted formula that evens out minor skin imperfections. With a fluid is so delicate it's hard to believe it's sunscreen.
Coppertone Oil-Free Faces SPF 50
Especially formulated for delicate skin, and its fragrance free. This product has super sun protection and the texture is light and oil free. Apply liberally with no fear of breakouts.
Aveeno Protect + Hydrate Lotion SPF 70
Here's a hydrating sunscreen that comes to the rescue of, chlorine and sun-dried skin. This product has a light  formula with a high SPF, with a pleasing botanical fragrance.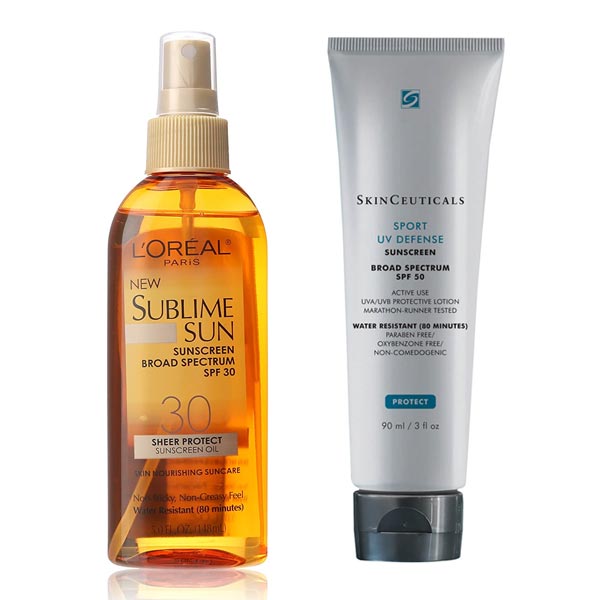 Skinceuticals Sport Uv Defense SPF 50
This sunscreen is fortified with a marine plankton derivative that's designed to made to invigorate skin cells. This special formula increases skin's resilience to harsh environments. Since it's moisture and sweat resistant, it's ideal for active individuals.
L'oréal Sublime Sun Sheer Protect Sunscreen Oil SPF 50+
This spray on sunscreen is quick and easy to apply. Its unique formula contains light oil, and gives your skin a soft shimmery glow that subtly reflects natural light. It also includes moisturizing antioxidants like Argan, which absorb completely improving skins texture and tone.
Body Lotions with SPF
Consumers have been trying for years to get the beauty industry to come up with a body lotion with SPF sunscreen. Why would you slather on a lonely sunscreen when you can do both lotion and sunscreen at the same time. Moisturize you skin while protecting it at the same time. Apply any of these products as soon as you step out of the shower, and you're good for a day in the sun. (Don't to reapply periodically)
Here are 2 body lotions with sunscreen ranging in protection from SPF 15 to SPF 30. These both get rave reviews and should be available at your local drugstore..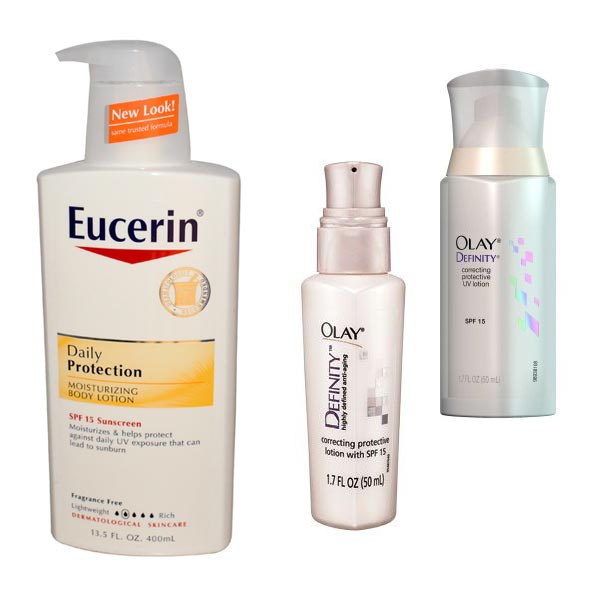 Eucerin
Everyday Protection Body Lotion SPF 15: is an excellent option for people with very dry skin. It's great for everyday use and you can find it at most drugstores. It has broadband (UVA/UVB) protection.
Olay
Definity Correction Protective Body Lotion SPF 15: is the product for you if you need to smooth out uneven tones, or lighten your skin. Those with sun spots or age spots will fade with repeated applications of this lotion. It also contains a trace amount of mica for a healthy summer glow.