Eye lines, "The skin around the eyes is where you see the earliest signs if aging," says Levine. That's why eye cream is really important, both to plump out the area and to keep the skin hydrated. Look for tightening ingredients like spirulina and seaweed, nourishing peptides and essential fatty acids. Acupressure treatments like lymphatic drainage massage, which releases lymph fluid and increases circulation, will give the area a lift. Choose your eye makeup wisely, warm swift. "Avoid using aggressive eye makeup removers and under-eye concealers; over long term, they can dry out the skin and age it," she says. Instead, " look for makeup that is moisturizing and healthy for the skin, containing healing natural oils such as jojoba and coconut, and natural butters like Shea and cocoa.". Avoid eye wrinkles.
Try RMS Un Cover-Up concealer. Use as a concealer or light foundation where needed to give subtle, flawless even coverage. This product makes the skin look more youthful, healthy, and more radiant then you can imagine. Rms beauty.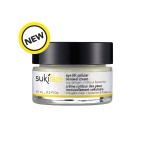 Suki Eye Lift Cellular Renewal cream, what a youth-restoring, completely absorbable, luxurious eye treatment with advanced liposome technology, who all, especially mature skin.
key actives collagen (acai oil), flavonoids (hibiscus liposome) & glabridin (licorice root)
solves boosts collagen synthesis, firms under eye area, reduces puffiness, brightens dark circles, fights visible lines & wrinkles, restores radiance, nourishes cells, leaves skin lifted, toned & velvety smooth. Suki skin care.