Estee Lauder Pure Color Cyber Eyes Makeup Collection and Gift Sets for Holiday 2011 fall 2011. Estee Lauder's new Pure Color Cyber Eyes collection features a series of limited edition eyeshadows, each of which is packed into a mini to-go palette. The six new shades teal blue, bronze, smoky charcoal, mushroom pink, purple, and silver have been created using a special formula that allows them to be applied, wet, dry, or as a gel. The collection also features a series of eyeliner pencils and mascara tubes, which will quickly complete your eye look. Pure Color Cyber Eyes eye shadows, Pure Color Intense Intense Kajal Eyeliner, Pure Color Long Lasting Lipstick.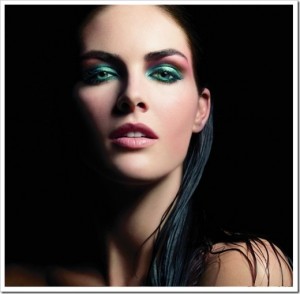 Estée Lauder and Creative Makeup Director, Tom Pecheux, Evelyn Lauder company, introduce a new dynamic trend in color makeup that boldly paints the eyes in graphic pigments… introducing new Pure Color Cyber Eyes. This powerfully modern collection, features eyes hadows in richly pigmented shades with a futuristic, hyper metallic finish, eye pencils that dazzle and define eyes in strikingly chic hues and mascaras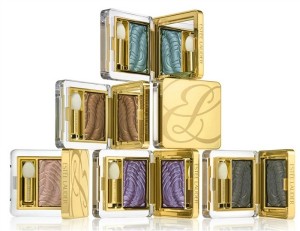 that create a lush display of vibrant color. In this animated trio, the eyes take center stage in shades of electric blue and teal, stimulating copper and silver and fiery purple and green with accents of blackened black and brown creating the opportunity to play
with color for endless eye looks. The exclusive formula can be worn in two finish options: apply wet for a hyper-metallic charged flash of color or dry for a subtle shine finish. Six vibrantly decadent shades, Cyber Copper, Cyber Pink, Cyber Lilac, Cyber Silver, Cyber Green and Cyber Teal, allow for complete versatility in creating a range of eye looks.
Luxe Liners in Crush-Worthy Hues, Complement lustrous lids with a perfectly paired eyeliner for maximum definition. Six smoldering shades of the new Pure Color Intense Kajal EyeLiner are introduced with 70% pure pigments to provide a furious explosion of dramatic color on the eyes. Inspired by the kajal used in ancient India, these brilliant liners are gorgeously applied in Blackened Black, Blackened Cocoa, Blackened Plum, Blackened Sapphire, Blackened Olive and Electric Teal to create the new definition of a daringly smokey look.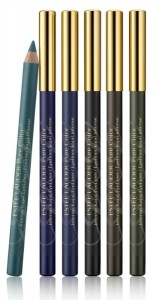 Lustful Lashes in Extreme Shades, Create lashes that burst with artistic sensuality with new, limited edition shades of  Sumptuous Extreme Lash Multiplying Volume Mascara in Extreme Teal, Extreme Violet and Extreme Copper. Using the exclusive Extreme Brush Comber – an oversized brush with a unique shape that gives you all the thickening of a brush with the definition of a comb – paint lashes in the all encompassing Extreme Bold Volume Formula, which is a special blend of three customized lash building fibers