Celebrate Spring with these nail art designs, inspired by colorful Easter eggs. Make your nails shine by spicing up your nail art as there are a myriad of cool nail art designs out there ready to inspire you. Check out the following stylish nail art designs and draw inspiration for your cool new season Mani. Here you find 3 easy nail art designs for Easter and spring time, and how to make the nail art design.. Easter nail art designs:
Easter Egg Hunt nail art design
1. Marbleize the free edge with pink and white acrylic. Apply sheer sparkly pink acrylic to the remainder.
2. Use purple craft paint and a nail art brush to add the egg. Use yellow craft paint, a nail art brush, and a dotter to draw a design on the egg.
3. Use green craft paint and a liner brush to add grass. Use white craft paint and a dotter to add dots along the smile line. Apply UV top coat. Cure.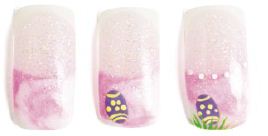 Foil & Flowers nail art design
1. Apply two layers of Hand & Nail Harmony Gelish Aurora EFX in Ali Baba's Sim Sala onto the nail, curing after each coat.
2. Rub Glitzy Lips' foil onto the tacky surface of the gel-polish.
3. Use Nubar White Builder Gel and a nail art brush to create three flowers with trailing vines.
4. Accent the flowers, stems, and leaves with the colored gel-polish of the client's choice. Cure. Apply UV top coat. Cure.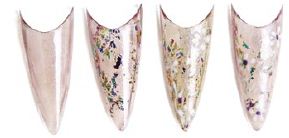 Spring Flowers nail art design
1. Polish the nail pink. Use a nail art brush and white paint to draw a circle in the center of the nail. Add two curved white petals.
2. Add more petals until you have five. Add white lines inside the petals.
3. Use a nail art brush and black paint to create black vines.
4. Add another black vine on the opposite side. Use a dotter and black paint to add dots inside the center. Accent the center and the petals with silver glitter.